Associate attributes with ticket types so fans can filter and display options that meet their criteria.
Create and apply fan-facing metadata inside a collection to surface a filter bar to customers. Rather than scrolling through a long list, purchasers can apply filters to display only the options that meet their selected criteria. Common use cases for metadata filters include various hotel properties by room type, group size, merchandise by color, or tickets by date/time.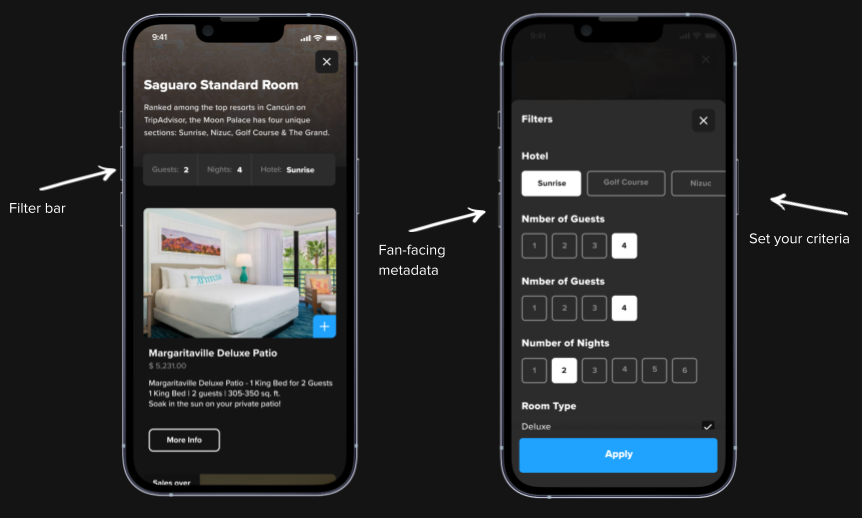 Create Metadata and apply it to a ticket type in a collection
Open the System menu from the Studio dashboard
Select Metadata from the dropdown
Click the + Add Metadata button
Enter the information in the fields provided


Name: The title of this Metadata for internal application
Display name: The fan-facing title of the smart filter. E.g., "Number of Guests"
Selection Type:

Multiple

: Options are presented as buttons; more than one can be selected

Multiple (Checkbox)

: Options are presented as checkboxes; more than one can be selected

Single

: Options are presented as buttons; only one option can be selected

Option Value Type: Determine the type of option values that can be created Alphanumeric or Numeric
Fan Facing: Check this box to apply the filter to your event page collection
Notes: Additional information about this Metadata. Notes are not visible to the user.

Proceed to the Next - Options page
Click + Add Option to start adding filter selections

Label: The name of the filter option. E.g., "Hotel A"
Value: Assign a value to this option

Click Add when finished and repeat for all other selection options
When finished, click Save
Next, apply Metadata to the ticket types by going to Manage Event > Tickets > select the ticket type > Metadata > + Add Metadata
Once your Metadata has been applied, fans can now filter tickets in a collection to quickly find the products that match their criteria.