The Forms section in Tools allows you to create custom forms to collect information or send notifications to fans during checkout.
Forms: Creating and Managing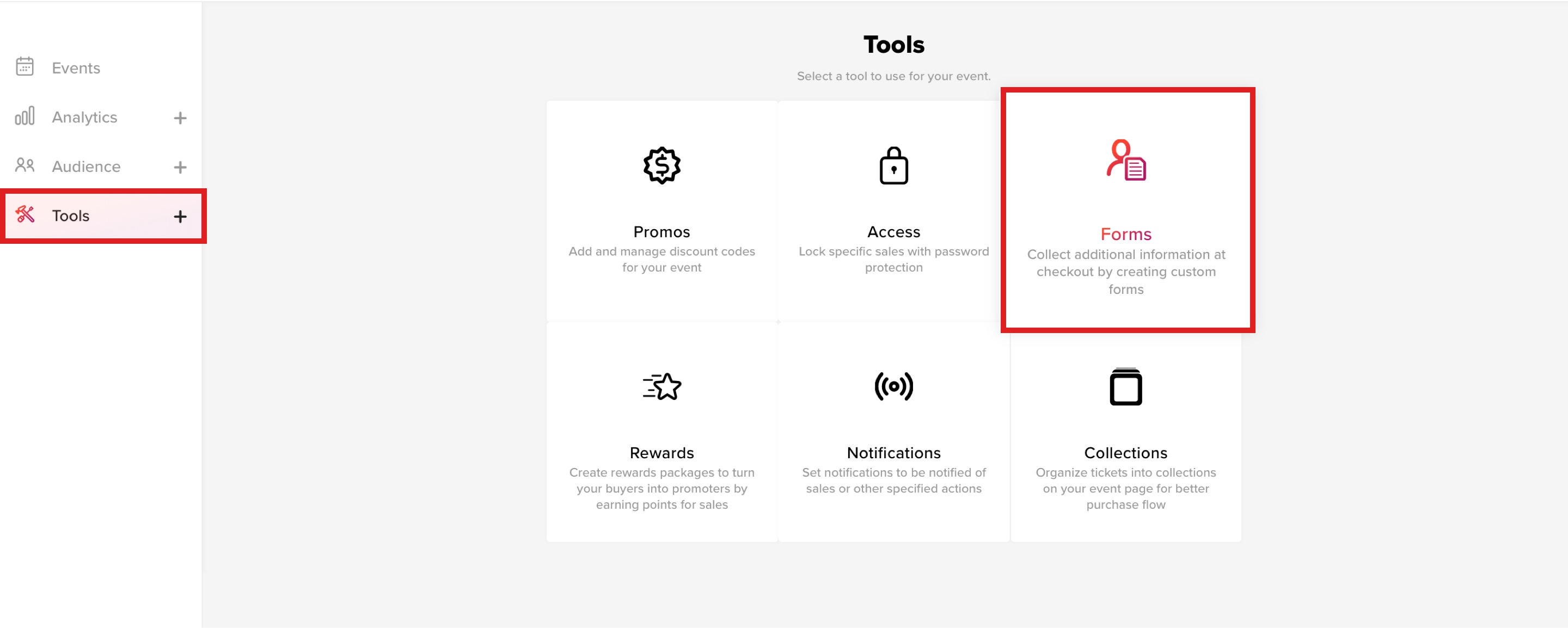 1) Click into Tools on the left navigation menu and click into the Forms icon

2) You can create a new Form by clicking the blue "Create New Form" in the top right, or you can click into any existing Form to edit.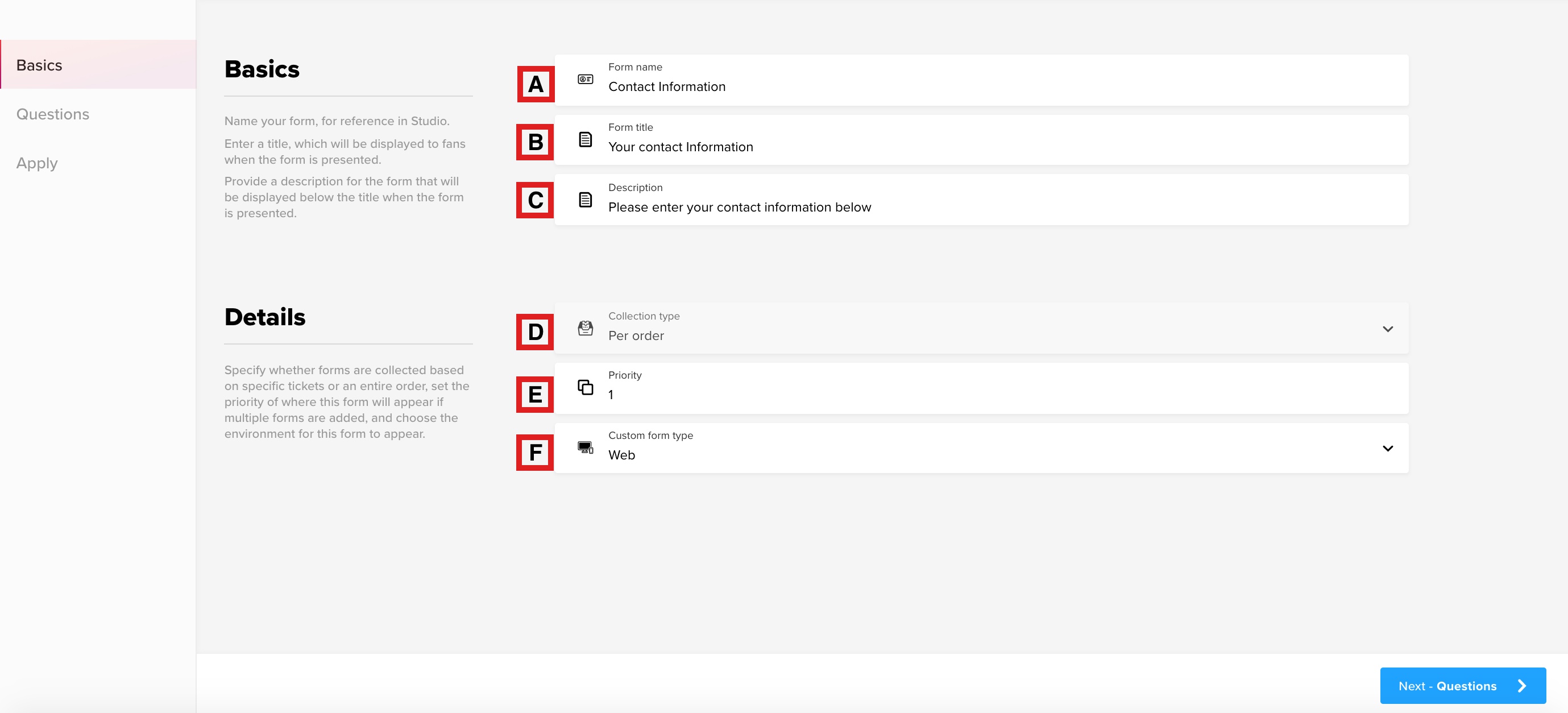 3) Basics:
A) Form name: This is the name that will show on the Form card in Studio, this will not be visible to the purchaser
B) Form title: This title will show up to the fan when the form appears
C) Description: Add context or any additional information about your form here. This is displayed to the purchaser at the top of the Form
D) Collection type: Choose whether this form will appear per order or per ticket in a transaction.
* If a purchaser has an order of 5 tickets, do you need answers from all 5 people (per ticket) or just as a whole (per order). I.e T-shirt size is generally a per ticket question, phone number is generally a per order question
E) Priority: If you have multiple forms, this will set the order in which they appear
F) Custom form type: Use the drop-down to select Web tickets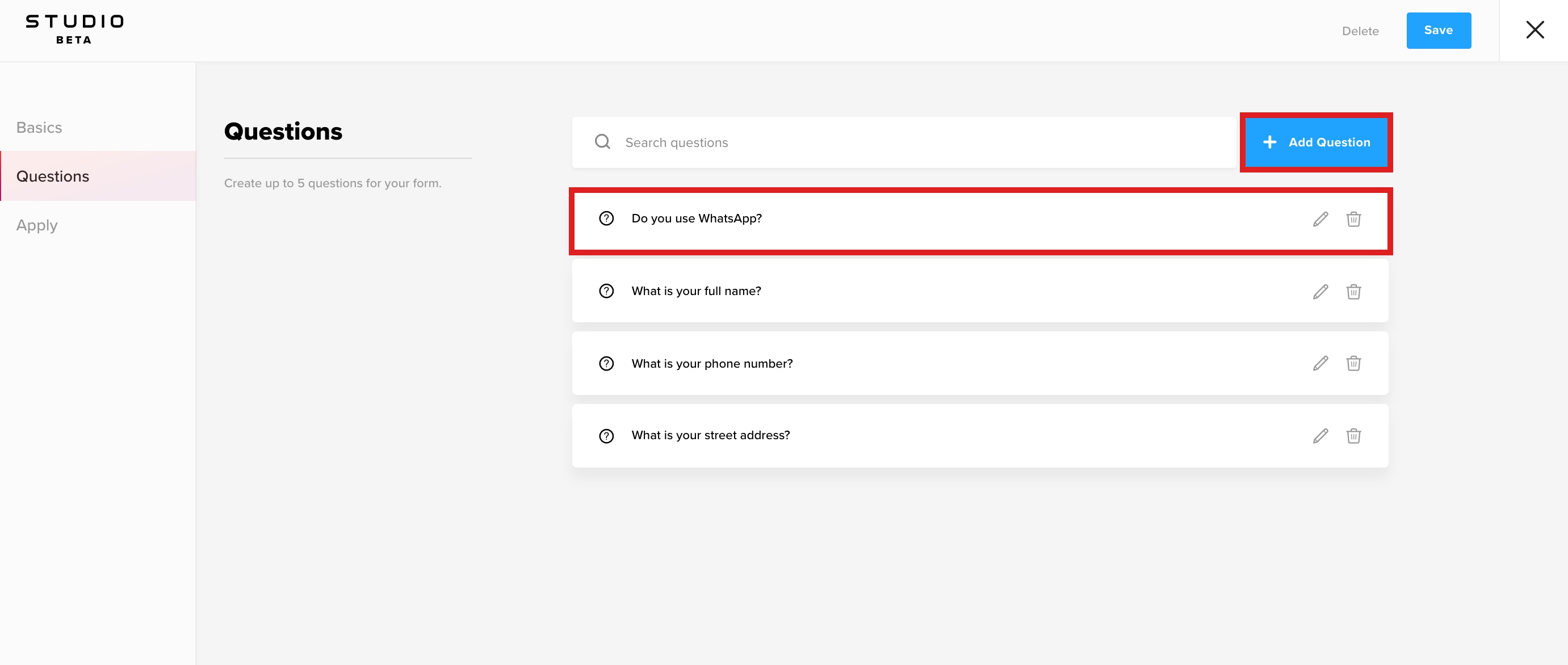 4) Questions: Create a new question by clicking the blue "Add Question", or edit a question by clicking the pencil icon next to your desired question.
A) Question type: Choose whether you would like your question type to be Custom, Ticket first name, Ticket last name, Legal, or E-mail.
B) Answer type: Choose whether you would like purchasers to type their own answers (Text), choose from a dropdown of pre-selected options (Dropdown), choose a pre-selected option (Radio), or select multiple pre-selected options (Multi-Select).
* If Dropdown, Radio, or Multi-Select is selected, insert the answer options.
C) Question: Write the question you would like the purchaser to answer
D) Answer required: Choose whether the answer is required to proceed or not
* If a question is required, it will appear mid-checkout. If a question is not required, it will appear post-checkout.
Make sure to press "Save" to continue!

5) Apply:
A) Select the events to which you would like to apply this Form
B) Once an event is added, choose the ticket types you would like to apply the form to by clicking the blue arrow to expand the sales
**Note: If any new tickets have been added to an event after a form has been set up, you will have to re-enter that form and apply it to those new tickets.
Make sure to press "Save" to apply!
Your Form setup is now complete and your guests will see the below at checkout: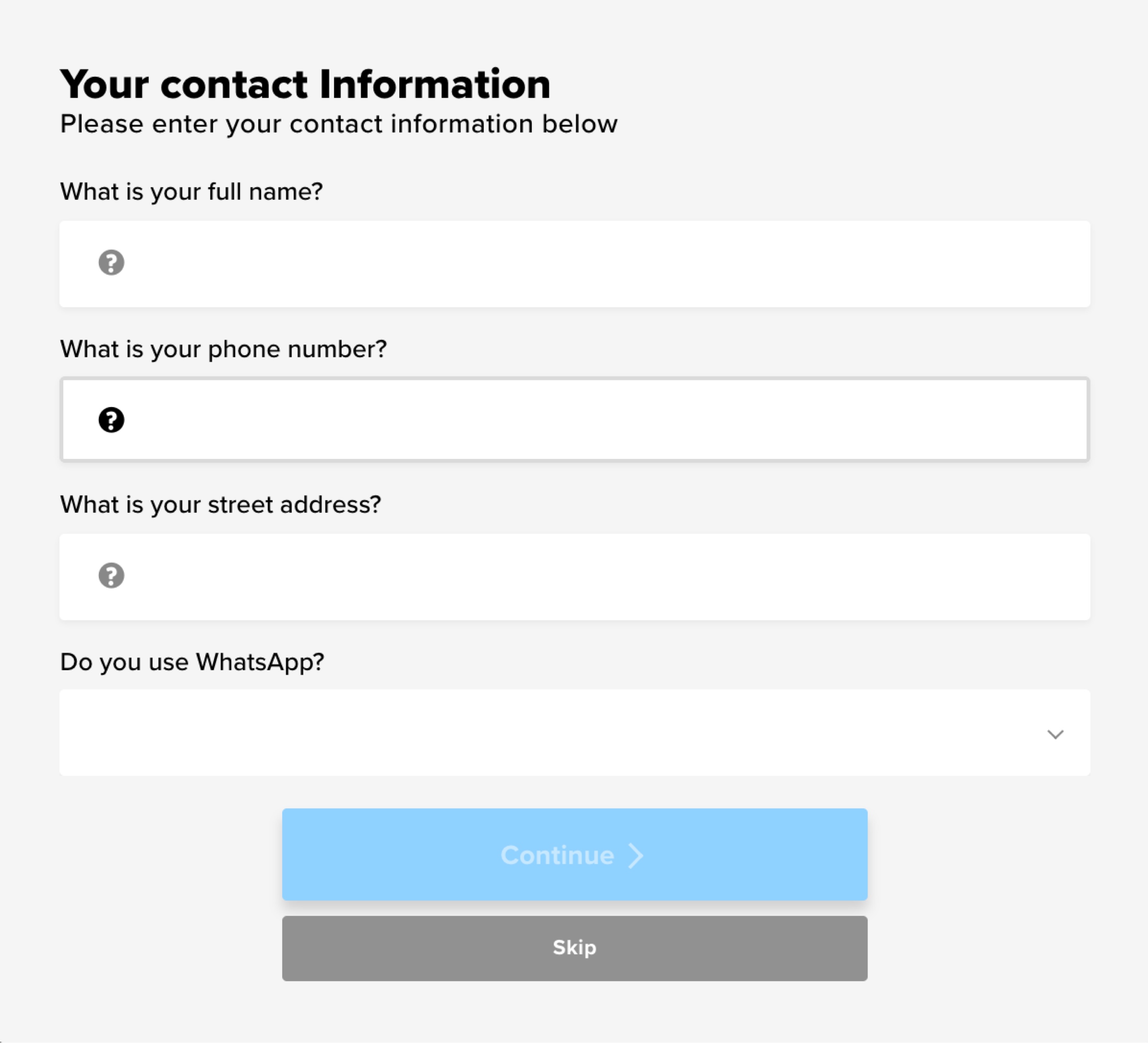 6) Search for custom form responses:
A) Go to Audience > Records

B) Click into the search field and scroll down to Custom Forms

C) Select the custom form for which you'd like to search responses, and then select a question

D) Once you select a question, you can then enter the response you are looking for