Update the look & feel of your group page with images, layouts, and more design options.
A Group is your business entity in Tixr Studio that houses your events, settings, and data in one place. Your Group page subdomain (GROUPNAME.tixr.com) is a one-stop shop for your fans to view all of your upcoming public Tixr events.
To edit your Group page, navigate to Manage Group
1) Expand the Group selector dropdown at the top left of Tixr Studio.
2) Click on the Manage Group icon in your desired Group.

3) Navigate to Design on the left menu bar.

4) Choose desired design options for your group page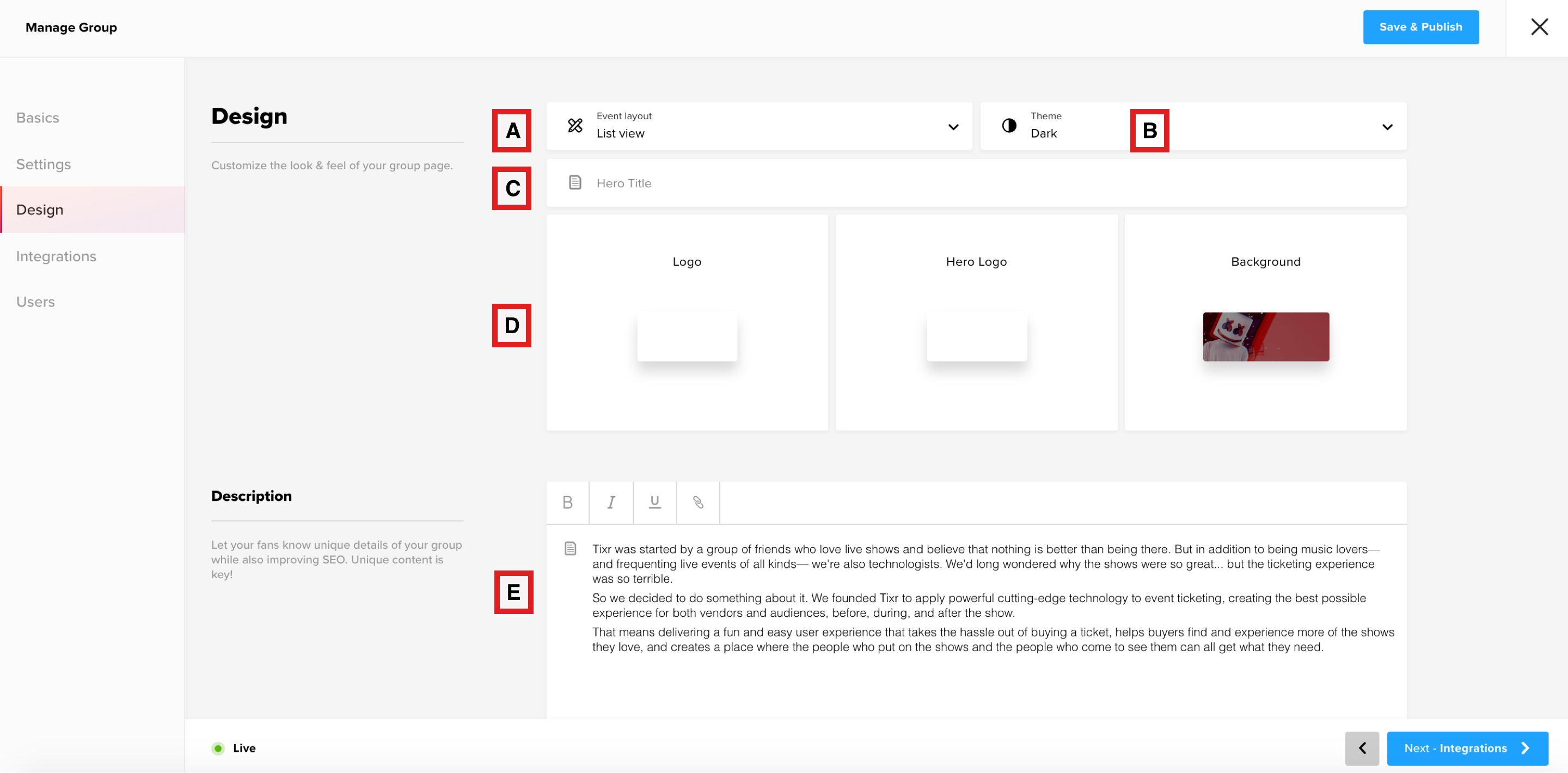 A) Event layout: Specify whether you would like your Group Page to be in a List, Calendar, Flyer Carousel, or Flyer Grid view.
List view will organize all upcoming events in a vertical list, organized from top to bottom by start date
Calendar view will display all of your upcoming events chronologically by start date within a calendar format.
Flyer Carousel view will display each event's flyer image horizontally in a rotating view

Flyer Grid view will display the event flyer image and organize your events within a grid format
B) Select a Theme: Use the drop-down to select Dark or Light theme for your group page. Dark theme will provide a dark background with light text, while Light theme will provide a light background with dark text.
C) Add a Hero Title (optional): displayed under the hero logo on the group page. We recommend using your Group Name.
D) Upload Logo and Background images: click on each square to upload a PNG or JPG file (1 MB max)
| | | |
| --- | --- | --- |
| Logo | | Displayed on the upper left of event pages. When clicked, redirects back to the group page. |
| Hero Logo | | Appears in the center of the group page. |
| Background | | Shown as a background image at the top hero area of the event page. |
| Mobile Background | | Full-screen image shown at the top of the group page behind your logo and event details. |
E) Description: Write a description of your group. This will display on your Group Page below the group background image and listed events.
5) Lastly, click Save & Publish to finalize your Group page designs