Holds give you the ability to lock and control specific seats from being available for sale. This feature can be set up in the Advanced tools of reserved seating events.
What are they and why would I use them?
Example 1: Restricting access for certain presale projects. I.e.: Amex presale, venue holds, artist holds, etc.
Example 2: Withholding sales of certain reserved seating areas so that you can prioritize other areas to sell first.
Example 3: ADA Seating
1. Use the "..." on your Event card to get to the Advanced Tools section. Once here, click on the Holds icon.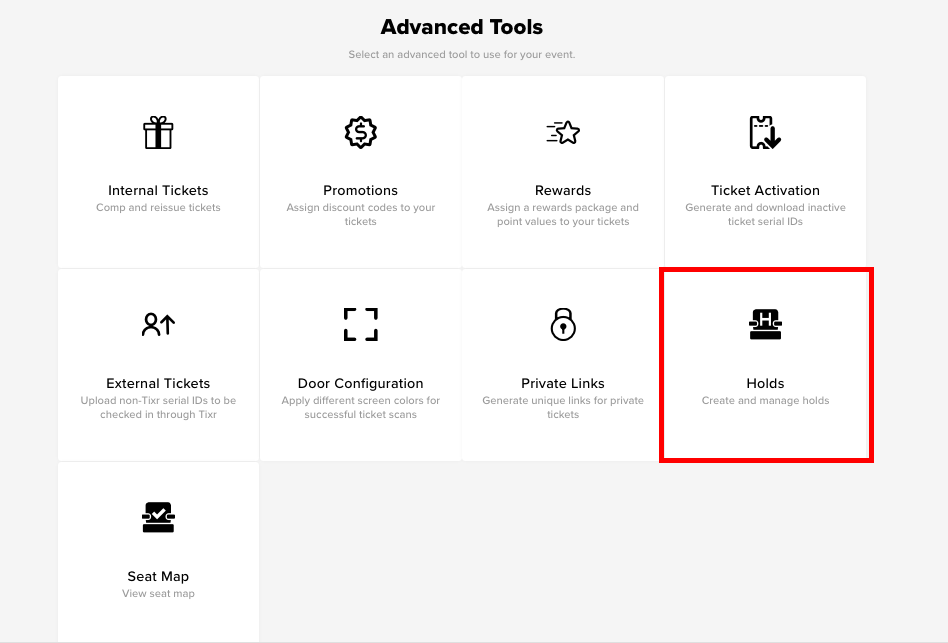 Holds Dashboard
A) Selection tool: Select this icon to toggle between the three options that can be used to select the seats
B) Manage Holds: Select the pencil icon to create or edit holds. You can have multiple holds with different names & colors for easy identification. A list of holds already created can be seen under manager holds, as well as under ACTIVE holds
C) Apply Changes: After seats have been added to a hold, select "Apply changes" to save your progress.
D) Use the "..." next to your Active holds name to reach the 'Manage Hold' section. This is where you can edit or release holds you've already placed.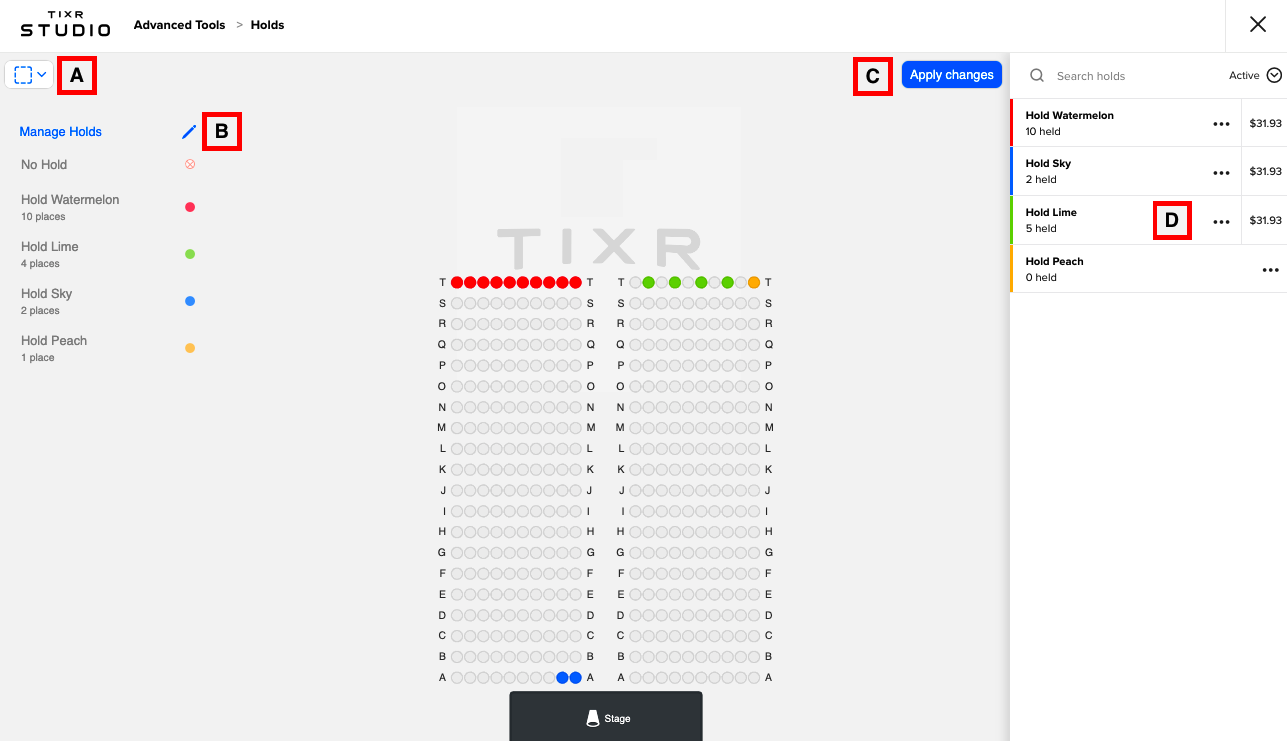 How to Create & Apply a New Hold
1. Click the pencil icon next to Manage Holds [See figure B from the screenshot above]
2. This will open your Manage Holds tab [shown below]
3. Click 'Create Hold'
4. Give your hold a name, and then click Confirm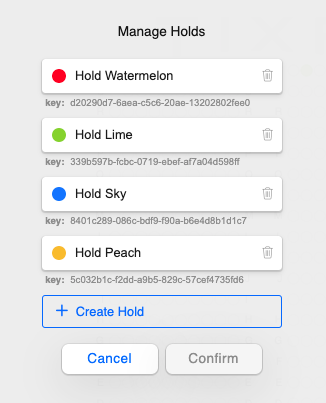 5. To apply your holds, choose a selection tool [see figure A below]
6. Click or select the seats you'd like to hold. Black check marks will apply to the seats once selected. Click the hold type you want for these seats, and then click APPLY CHANGES [see figure C below]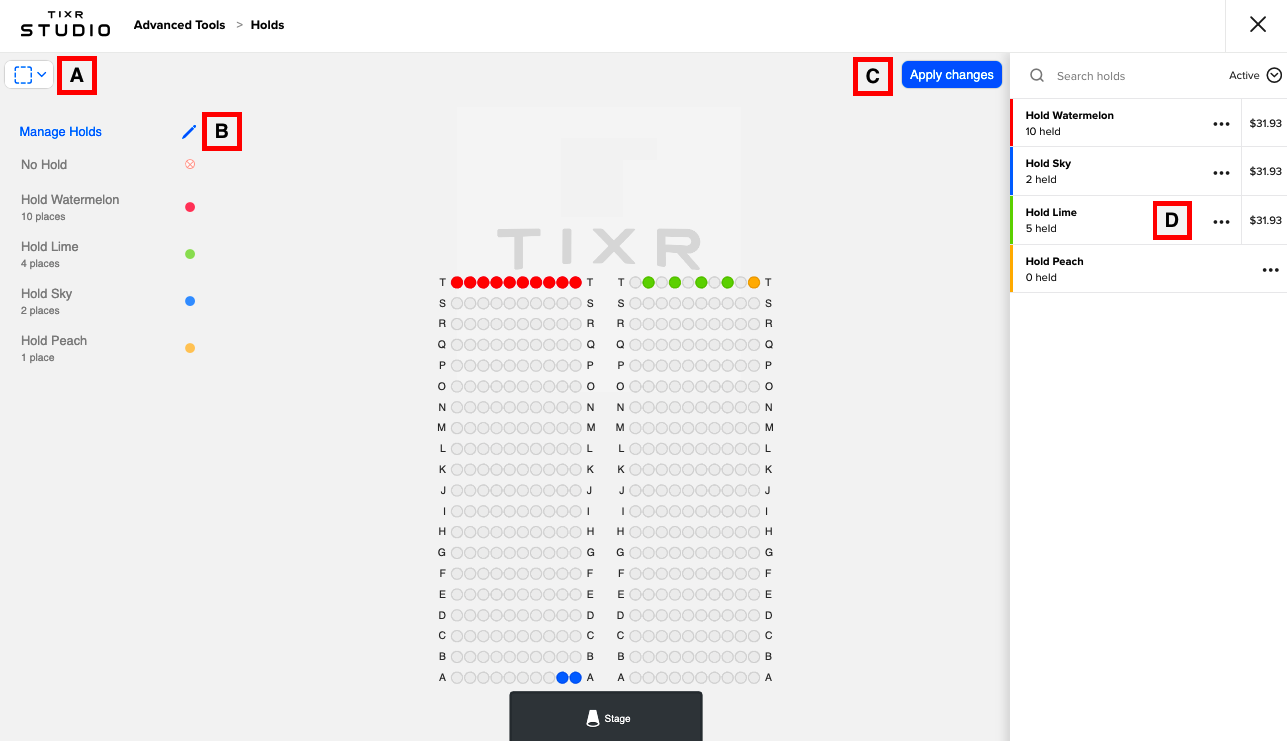 Manage Holds & Advanced Holds options
1. To manage your holds & access the advanced settings, hit the '...' next to your Active Holds name
2. Select 'Manage Hold'
3. To Release a Hold, click the orange RELEASE button. You will be prompted to type 'release' in order to complete this action. Releasing a hold will make it available for purchase to the public.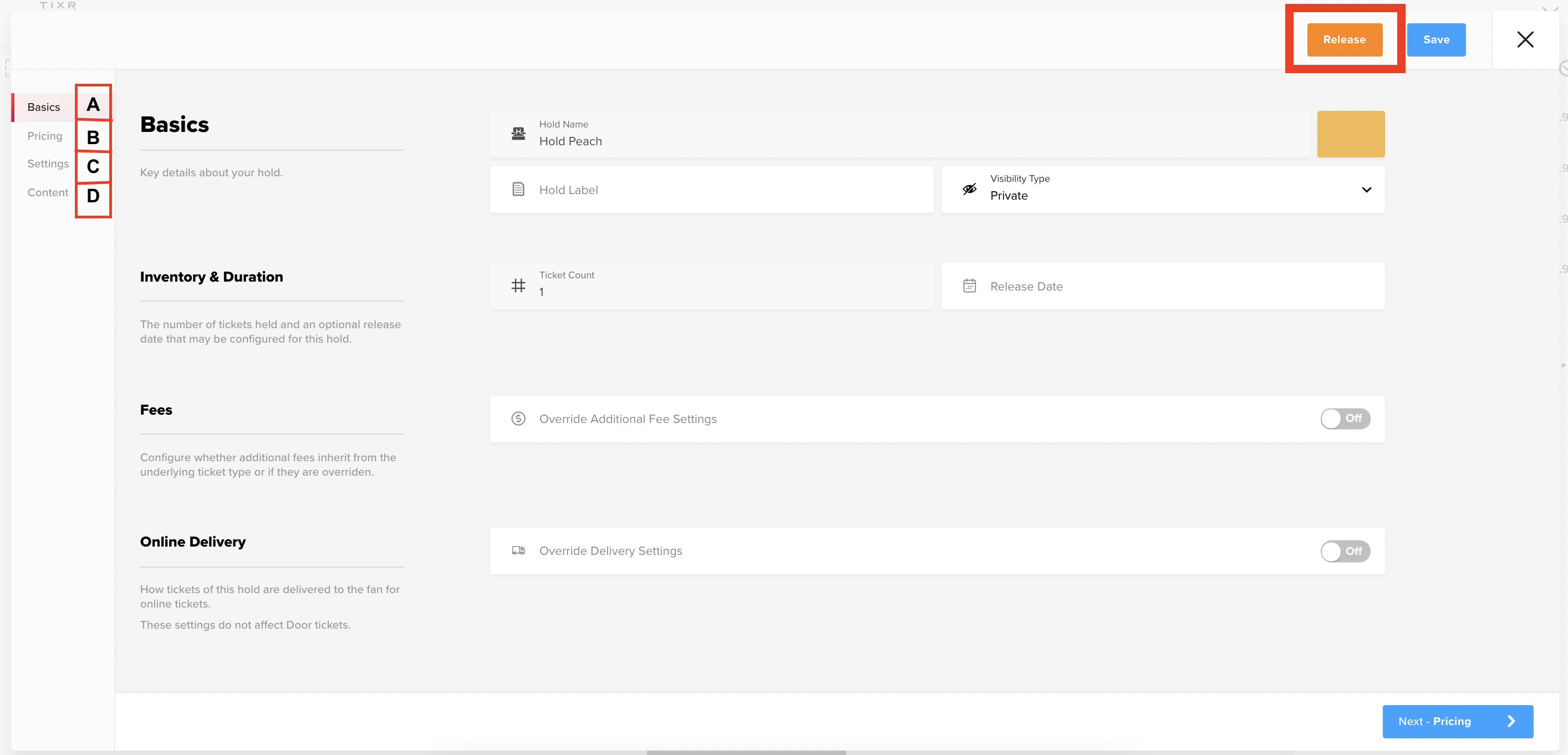 A) Basic:
1) Holds Label: Holds Label allows for an abbreviated holds identification name
2) Visibility Type:
Private: Can only be sold if released or via private link
Public: Can be sold via an Access Code or Private Link without releasing the hold
3) Release Date: Schedule your hold to automatically release and be open for sale
4) Override Additional Fee Settings: Apply additional fees to this hold
5) Override Delivery Settings: Change delivery settings for this hold
B) Pricing: Gives the ability to override the price of the seats you've placed on hold
C) Settings: Gives the ability to override the ticketing settings of the seats you've placed on hold
D) Content: Gives the ability to override the ticket content of the seats you've placed on hold