Offer fans a way to register for sold-out tickets should more become available while thwarting bots, mitigating risk, and capturing demand.
When enabled, fans register for a first-come, first-served Waitlist, and their pre-authorized payment is processed if inventory increases. Need to do a refund for any reason? Turn on Waitlist to have a list of buyers with pre-authorized cards ready to take their place!
When do I use it?
Sold-Out Events: Generate immediate sales once inventory increases, build your database, and understand actual demand by capturing all fans that want to attend, not only those that purchased.

Allocation Sales: Build a Waitlist beyond your allotted inventory. Leverage the Waitlist to add new shows, demand an additional allotment, or simply build your database.

On-Sales: Run your entire on-sale on Waitlist and let fans dictate the optimal tour routing by joining the Waitlist for a potential show in their city. When an event hits a critical mass or is confirmed, add the inventory and instantly convert the Waitlist into revenue.
How to Activate Waitlist in Tixr Studio
Turn on the Waitlist feature from your event dashboard under the Advanced Tools menu. You can disable Waitlist or edit settings from the same menu anytime.
1)
Click on the
Advanced Tools
menu from the event card

2) Click on Waitlists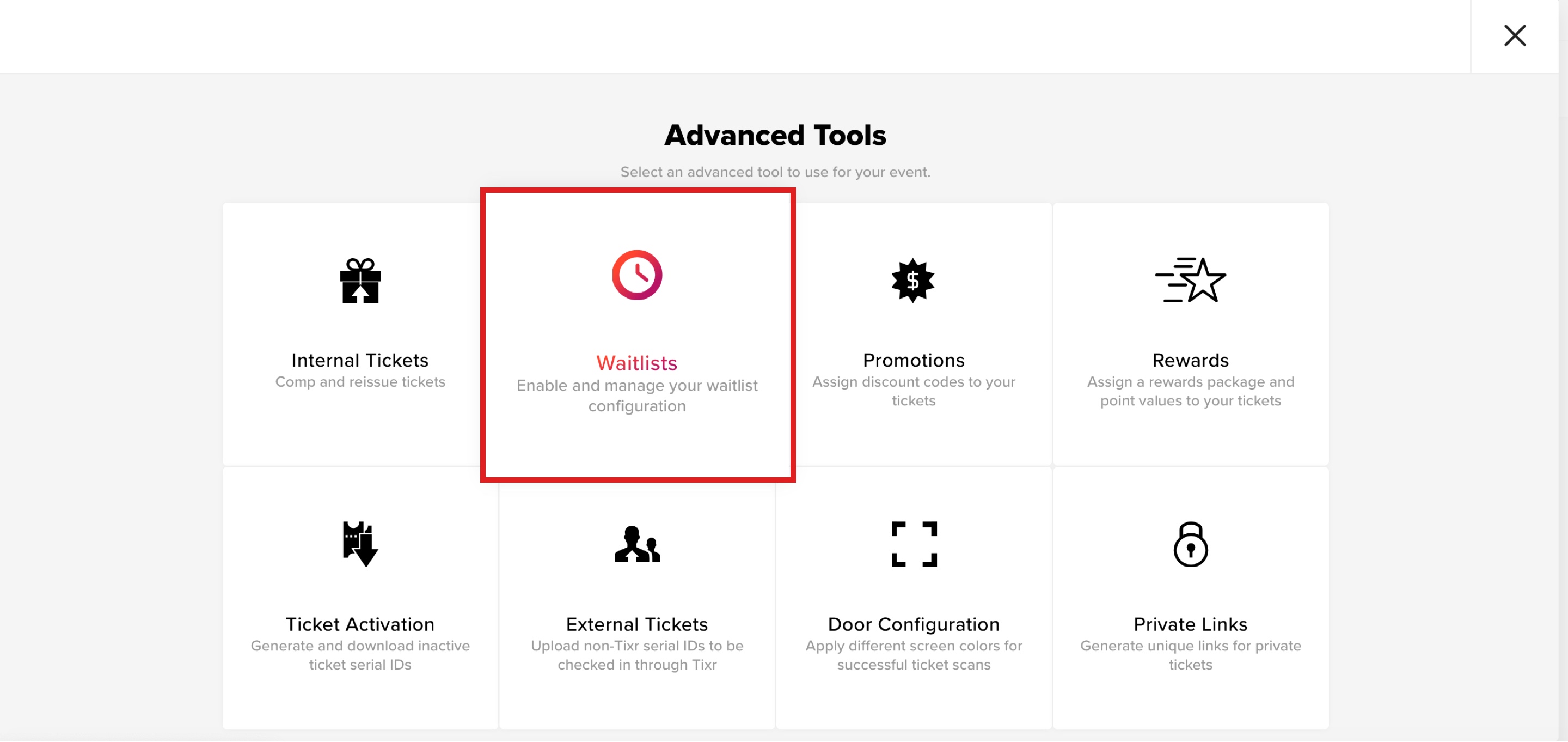 3) Toggle ON Enable Waitlist
4) Customize your Waitlist policy using the below features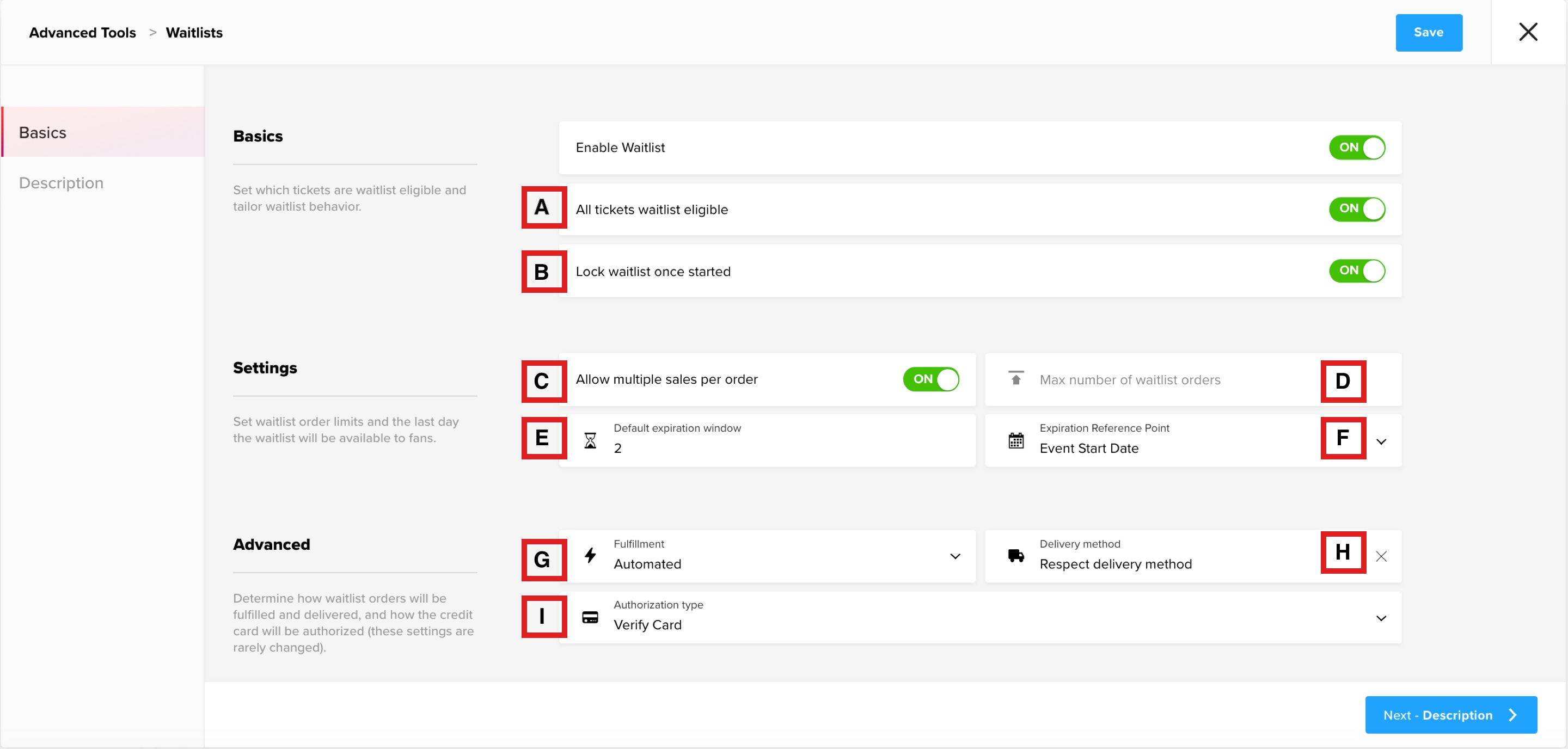 A) All tickets Waitlist eligible: If toggled ON, Waitlist will apply to all tickets in that event. Toggle OFF to select which ticket types are eligible for Waitlist in the upper left Tickets section. Any ticket types not selected will show "Sold Out" on the ticket picker (or the sale status override setting, if applicable).
B) Lock Waitlist once started: If toggled ON, the ticket types will never become available online once it goes into Waitlist mode, regardless of available inventory or the number of people on the Waitlist. Essentially, once it goes into Waitlist mode, it will stay there. If toggled OFF, the sale will open back up online if inventory becomes available and nobody is on the Waitlist.
C) Allow multiple sales per order: If toggled ON, any available online tickets can be added to a Waitlist request. If OFF, tickets available online must be purchased separately, and only one Waitlisted ticket type is allowed per order.
For example, an event has sold-out admission tickets on a waitlist, but parking tickets are available online.
If toggled ON, a customer can register for a Waitlist order containing both admission and a parking ticket and is charged for both once admission tickets are available.
If toggled OFF, their Waitlist order could only contain the admission ticket.
D) Max number of Waitlist orders: Enter a number to limit the total of Waitlist orders allowed for this Event. Once the max number is reached, the ticket picker shows "Sold Out" (or the sale status override setting, if applicable). Leave this field blank if there is no limit.
E) Default expiration window: The number of days before the reference point (event start date or end date) that the Waitlist will expire. At this date, waitlist orders are not eligible for fulfillment.
Pro-tip: Set the default expiration window to at least two days before the event to ensure fans have sufficient time to get there.
F) Expiration reference point: This is the date your expiration window refers to; either X amount of days before the Event Start Date or X amount before the Event End Date.
G) Fulfillment: Select Automated to fulfill orders automatically when inventory is available on the scheduled run times. Run times are 4 am, 4 pm, and 10 pm EDT (1 am, 1 pm, and 7 pm PDT). Select Manual to bypass automated fulfillment and manually fulfill waitlist orders via Records.
H) Respect delivery method: Select from the dropdown whether you would like to respect the current delivery method for that ticket (electronic, shipping, or will call), make all Waitlist tickets Will Call, or make only tickets with a shipping setting Will Call tickets.
5) Click Next - Description
Describe the Waitlist feature to your audience and how it works. Leave the default text as is, customize it, or replace it entirely.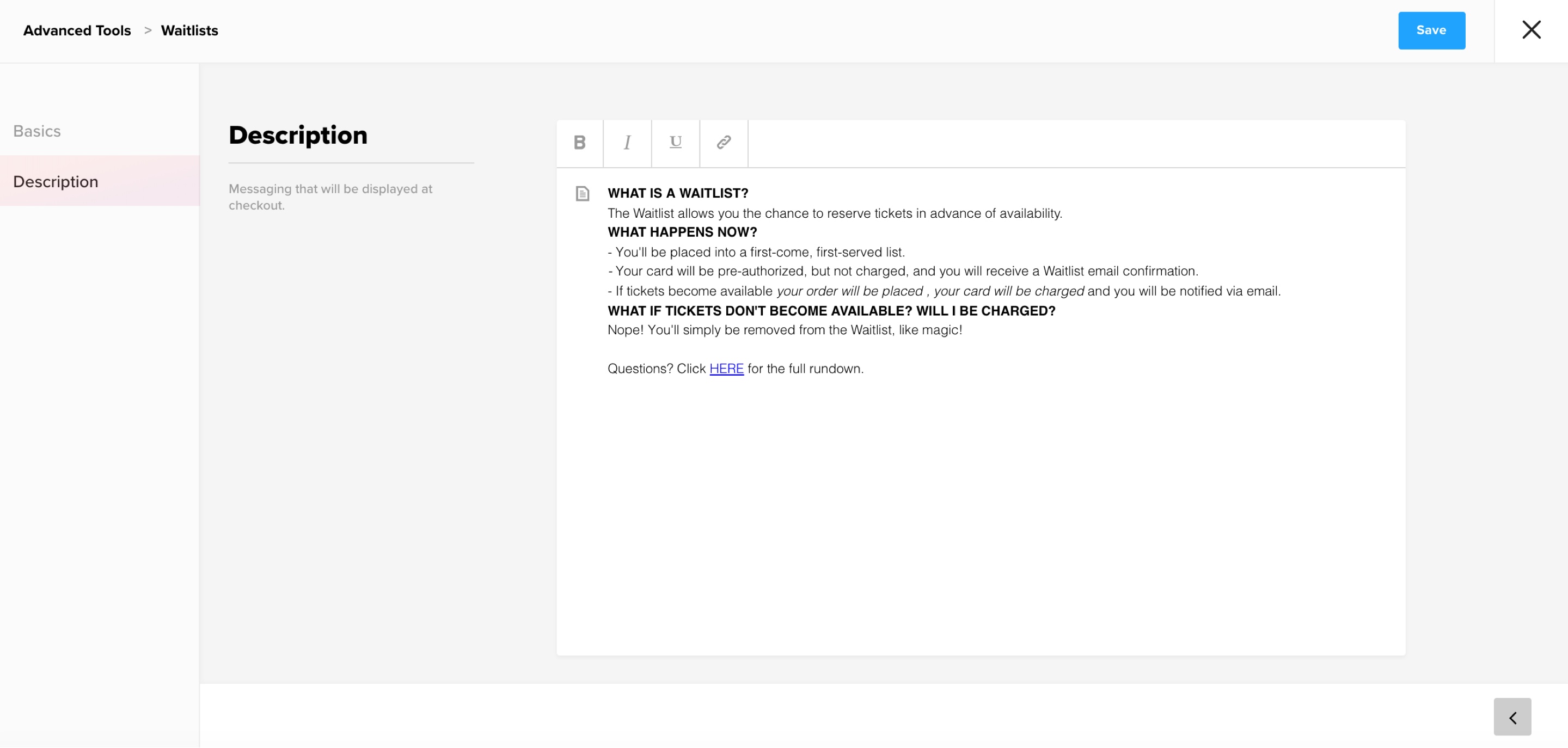 6) Click Save to activate Waitlist
Return to Advanced Tools to change your Waitlist settings at any time. All fields are editable. To toggle off Waitlist, you must first fulfill, cancel, or expire all requests.
Troubleshooting
Q: I pressed fulfill, but nothing is happening
Ensure you have updated the inventory to accommodate the Waitlist orders. You must Publish the event after increasing inventory.
Q: I fulfilled the Waitlist request, but I don't see it in Orders
If a Waitlist card did not process, it wouldn't show in Orders. From Records, go to Waitlist, click into the filter bar, and select Order Status : Queue Declined.
Q: I turned Waitlist OFF, but I still see it
All requests must be fulfilled, expired, or canceled before disabling Waitlist (no active requests). If you have fulfilled all Waitlist requests and added new inventory for sale and your Waitlist is still visible, check the settings and ensure "Lock Waitlist Once Started' is toggled OFF.