Records: Orders
View a report of fans who have already purchased tickets.
1) Access orders by clicking on Records in the Audience tab in the left navigation bar. From there, click on Records.
A) Use this button to sync these orders to Mailchimp (if you have integrated it with Studio). This will automatically create an audience list for you.
B) Click the download icon to access the different reports you can download for this group of data.
C) Use the filter icon to select the event(s) for which you would like this data.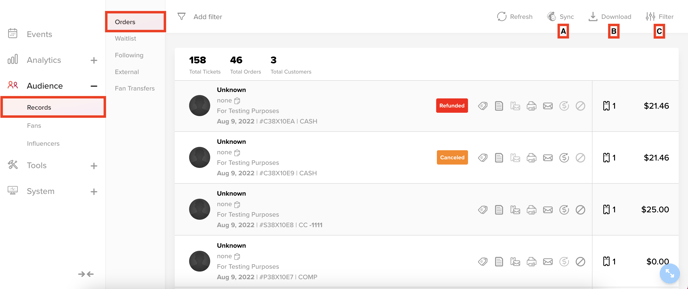 2) Use the icons in each order's line to perform various actions. You can also see any altered status to the ticket, such as canceled or refunded.
A) Tags allows you to add one or more tags to an order. This setting allows you to search and query tags across all of your events. For example, if you add a "superfan" tag to an order and you have multiple orders with that tag, you can then filter for all fans who attended events with that tag by going to Audience > Records > Filter > Tags.
B) Notes allows you to leave any important info about a fan's order in Studio.
C) Resend tickets to the fan electronically.
D) Print Options allows you to print tickets from Studio using the Tixr Print Agent, as well as receipts, signature forms, and order details.
E) Email allows you to a single fan at a time, using your personal email application.
F) Refund order allows you to issue either a full or partial refund on the order level or on an individual ticket level. Refunding an order also voids the serial ID associated with it. Please note: if you are using Tixr's payment processor instead of your own Stripe account, you may not have refunding capability.
G) Cancel ticket allows you to release tickets from the order back into inventory and void any serial IDs associated with the ticket. This action does not refund money back to the fan.

3) Hover over the payment amount and it will turn blue. You can click on the down arrow to expand the order details. From here you can see the ticket detail within the orders and perform actions on specific tickets.

4) Edit order details.
A) Change the name of the fan on a ticket level. You can change either the first name, last name or both.
B) Change the ticket's delivery method. You can choose from electronic, will call, third party, or no delivery. If you have the electronic delivery option selected, you will be given the option to send the ticket immediately or at a future date and time; you will also be able to send the digital QR code, or the digital QR code plus PDF ticket.