External Tickets- What are they? How do I use them?
What Are External Tickets in Tixr Studio?
There are two use cases for uploading External Tickets. You will either use this tool to pre-activate hard tickets OR upload tickets from another ticketing system.
Example 1: You have promoters selling hard tickets to your Event
Example 2: Tickets to your Event were sold through another platform and you want to centralize the records and check-ins


How do I use External Tickets in Tixr Studio?
NOTE: The serial ids (barcodes) uploaded with the external patrons must be serial ids created outside of Tixr. They cannot be Tixr serial ids.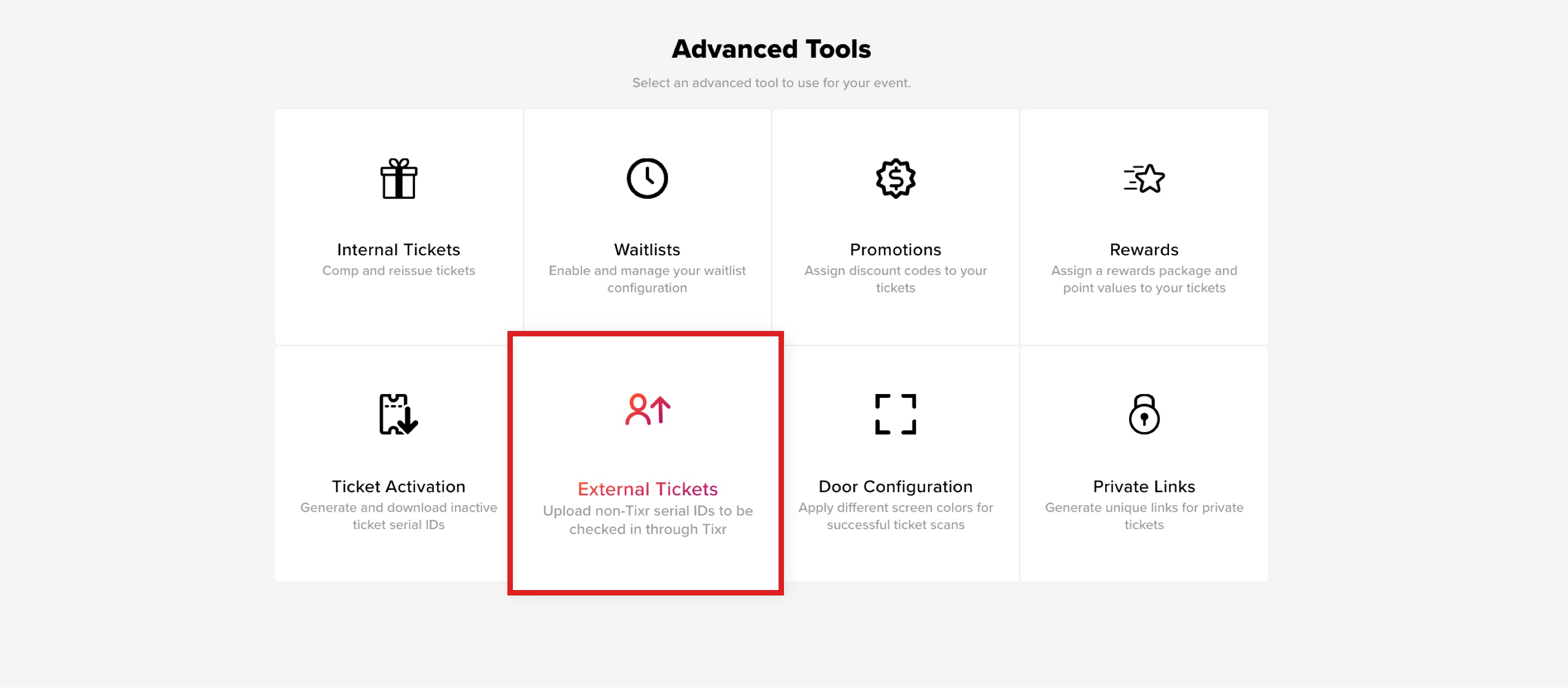 1) Click the "..." on your Event Dashboard to open the Advanced Tools. Click into the External Tickets icon.
2) Click on the template to download the CSV template for the orders
3) Choose the ticket type that you would like to associate these external tickets with
*You can only upload external patrons one ticket type at a time
The CSV that you download will have the following labels that you will need to fill in:
Label: The label will show when tickets are scanned in Door. You can reference the other platform you are importing the tickets from, or that they are hard tickets. 0
SaleName: This must replicate the exact sale name of each ticket type. (I.e VIP)
Serial Number: Individual serial IDs for each ticket, either pulled from another ticketing platform or pulled from Tixr to create hard tickets.
*Be sure to confirm with your account manager that the string of numbers will be accepted by the Tixr system if importing from another ticketing system.
First Name: If Applicable
Last Name: If Applicable
Order ID: If Applicable
Security Number: If Applicable
*Be sure to leave the column header for any columns that you are leaving blank in the upload template.
4) Click the blue "Upload customer list" and you will receive a success or error message at the top of the screen
5) Lastly, you can then find your External orders in the External section of Records. Click into Records under Audience in the left navigation tab, then click on External. You will be able to see all the order information here and view/ manage the check in.