Q: Do I need to do anything different with my Stripe account to accommodate payment plans?
A: Yes! Instructions on configuring your Stripe account to process payment plan orders here . If you are using Tixr's Stripe account, you don't need to do anything.
Q: What's the best practice when it comes to setting the down payment amount?
A: That's entirely up to you, but the industry standard is 20%-25% down.
Q: Are fees applied to each payment that gets processed?
A: No, just the down payment.
Q: Can I change the amount of the down payment after there have already been sales processed?
A: Yes, but the change will only affect fans placing new payment plan orders, not fans who have already placed payment plan orders.
Q: What is the threshold for the minimum order total?
A: There isn't a threshold, per se, but it really depends on how far out your event date is. We recommend anywhere between $100 - $500.
Q: How do I see who has placed a payment plan order, who still has a remaining balance on a payment plan, and who has completed their payment plan?
A: Go to Audience > Records and in the search bar, filter for payment plans.
Q: How do fans know what their payment plan schedule will look like?
A: A payment plan schedule will vary, depending on how much your tickets cost, what you've set as your down payment, and when fans start their payment plan. Once they cart a ticket, opt into the payment plan, and go to check out, a dialog box will pop up with details about the payment plan. They will also be required to agree to the terms and conditions of the payment plan before they can complete their purchase. Details will also be present in the purchase screen confirmation and the email confirmation; examples below:
Before checkout: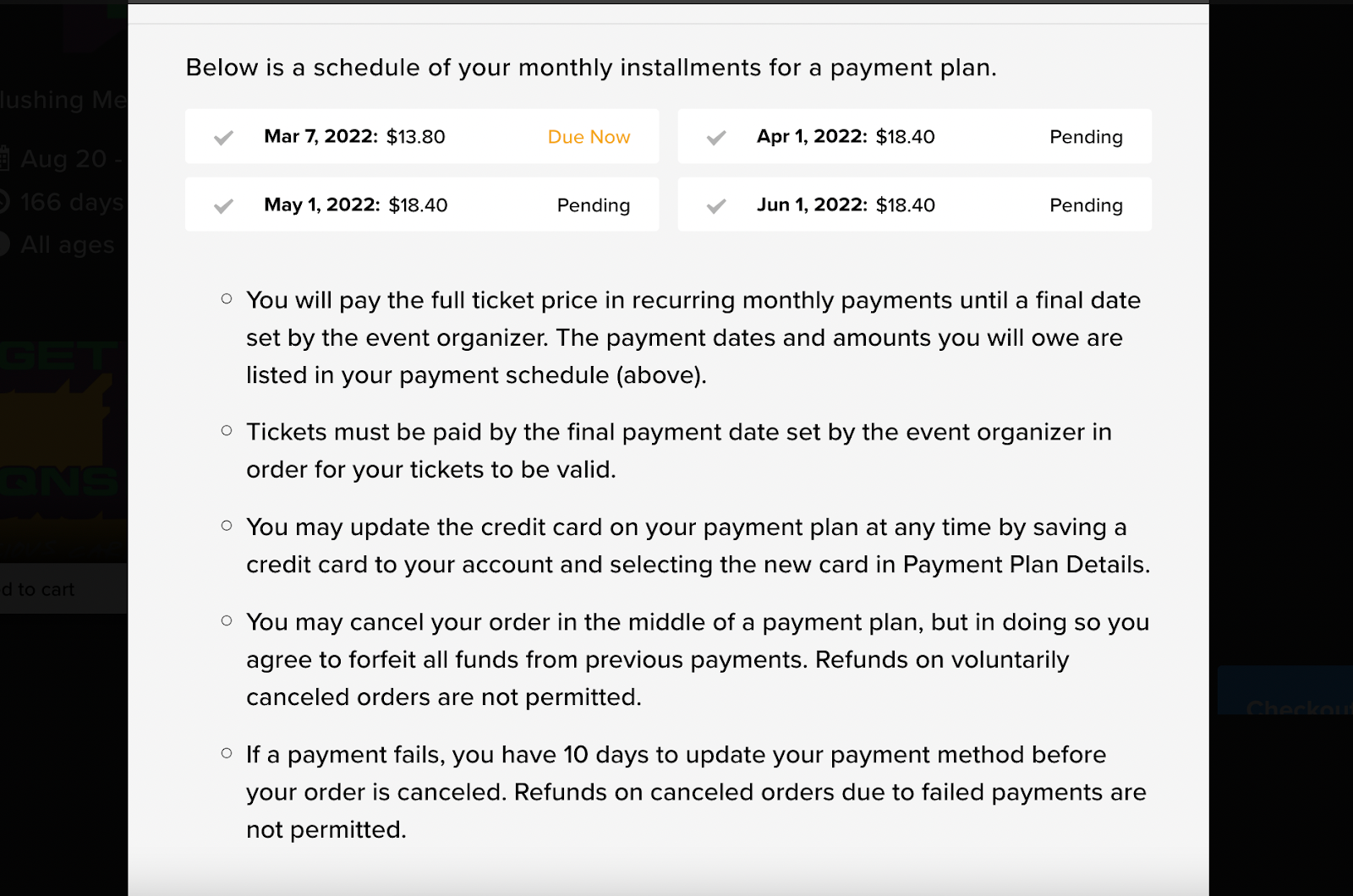 Email confirmation: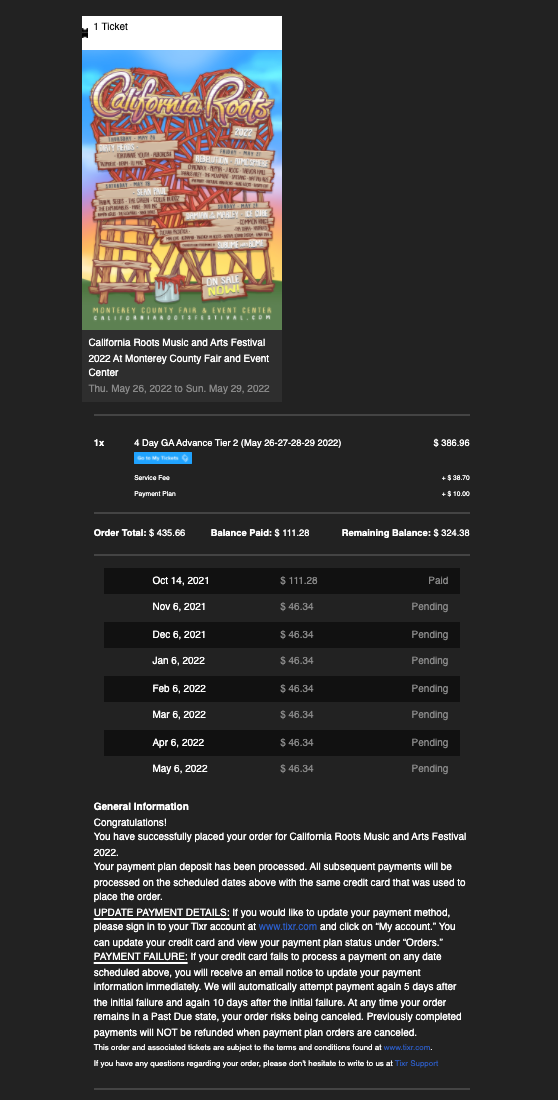 Q: Do fans get notified when a payment has been processed or declined on their payment plan?
A: Yes! Examples below:
Payment successful: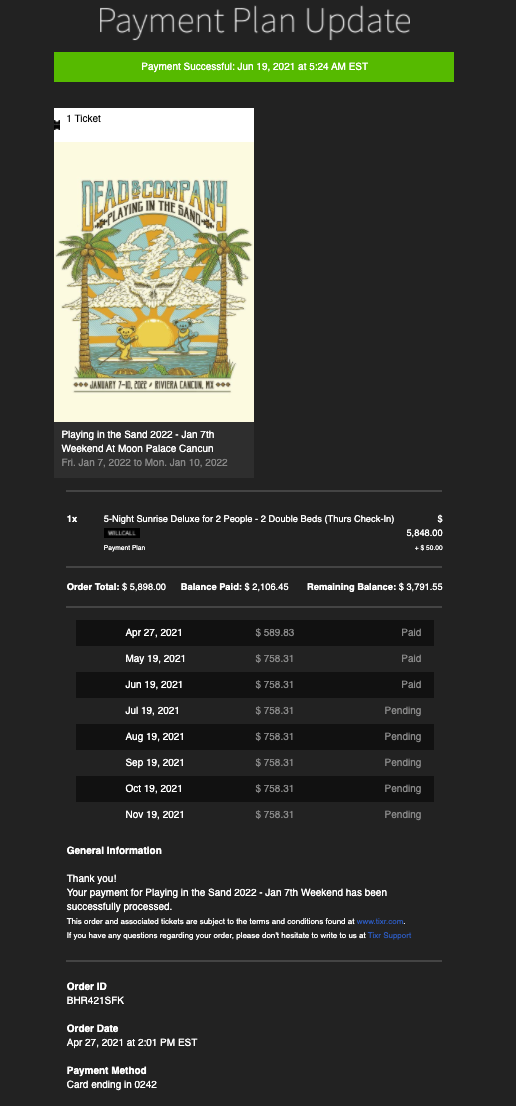 Payment unsuccessful: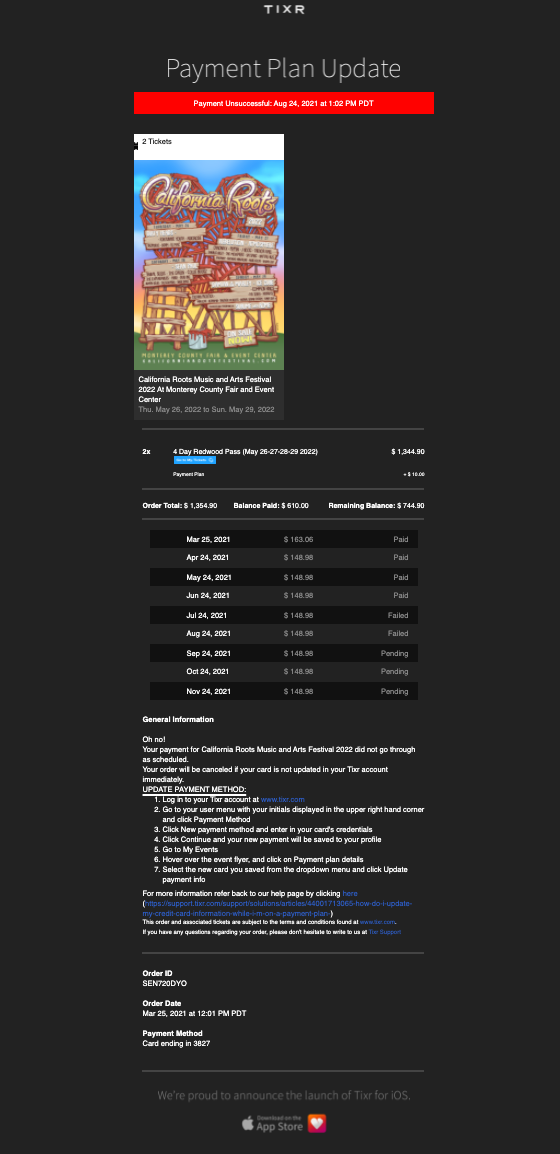 Q: What happens if a scheduled payment is not successfully processed?
A: If a payment is declined on a payment plan the Tixr system will notify the fan. The system will try that payment method (if the fan doesn't update prior), 5 days after the initial installment and if it gets declined again we will try in another 5 days. After that, it is up to the fan to update their payment method through their Tixr account. Once they update the payment method the system will automatically run all past due installments. Installment due dates cannot be changed. The fan agrees to the schedule before completing their purchase. Tixr doesn't automatically cancel any payment plans; it will stay in a past due state forever if the fan doesn't update their payment plan. It is up to the client what they wish to do with all past-due payment plans.
Q: What happens when a payment plan has been successfully completed?
A: Upon the successful final payment, the fan will receive an email confirmation with their electronic ticket(s) attached. Example below: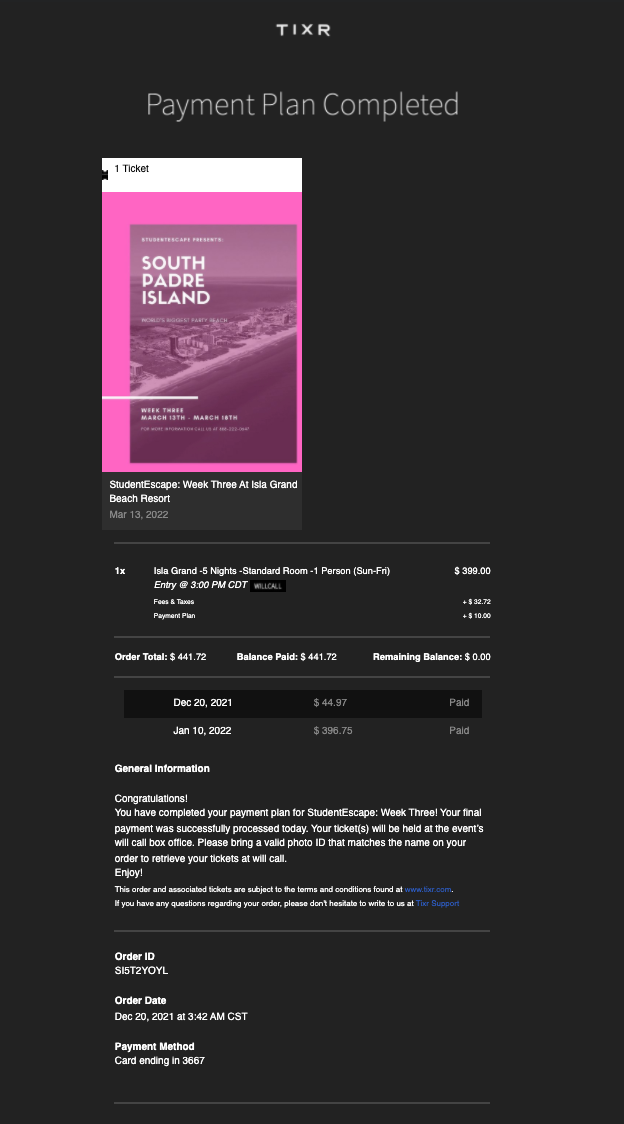 Q: What happens if I decide to cancel an order because the fan's payments are not successful?
A: Canceling a payment plan order just means that the system will no longer attempt to collect the remaining balance, and the fan will not receive a ticket. It is up to you to decide if you want to refund the fan for the successful payments they've already made, but keep in mind that the fan agrees to forfeit any previous payments made if their order is canceled for any reason when they go through the checkout process. Please also note that if a fan changes their mind after canceling their payment plan their original order cannot be reinstated.
Q: Can fans cancel their own payment plans?
A: Yes! Fans can cancel payment plans from their Tixr accounts.
Q: What happens if a fan needs to update the credit card on their account so that upcoming payments don't fail?
A: Fans are able to update the credit card that is being used to process payments. Instructions on how to do that here.
Q: Can a fan pay off their order in full before the final balance due date?
A: No, all payments must follow the schedule as outlined at the time of checkout.
Q: I was using my own Stripe account for processing orders, but then I had to switch to Tixr's processing. Will this affect payment plans for my event?
A: Payment plans will still process as scheduled, but if a fan needs to update their payment method after you've switched processors they will receive an error message. The only way they'd be able to continue paying off their payment plan and ultimately receive their ticket would be if their original order was canceled and they received a promo code to repurchase with a discount based on what they had paid up to that point.
Q: I have one event in the US and another in a different country. Orders will be processed using that country's currency. Historically, many fans who purchased tickets for one event will travel to the other. Does having payment plans available for both events cause any issues?
A: Unfortunately, there is a limitation within Stripe that prevents fans from purchasing payment plan orders if they are using the same Tixr account for orders in different currencies. In order to get around this, your fan would need to create a new Tixr account using a different email address in order for their payment plan in a different currency to be properly processed.