Price levels allow you to sell one ticket at a variety of prices.
Note: To enable price levels for your group, reach out to your client success manager by reaching out to clientsupport@tixr.com.
1) Create price levels at the group level:
You'll access this under the Systems menu (Systems > Price Levels). Here, you can view previously created price levels for your group and create new price levels which any event ticket type may select from and use. You can view active price levels, as well as archived ones.
2) Create new price levels by clicking the blue Add New Price Level button.

3) When Add New Price Level is clicked, you can enter a price level name into the text box displayed.
Once you click Save, the new price level will be listed as an option in your event's ticket build whenever price levels are enabled.

4) Edit or archive price levels:
- Edit: You can edit the name of an existing price level.
- Archive: When you archive a price level, it will no longer be an option when configuring ticket types that have price levels enabled. Existing tickets that use a price level that has since been archived are not affected.

5) Enable price levels for your ticket:
Now that you've created some price levels, you can choose which tickets in your event you would like to apply them to. When creating or editing a ticket for your event, under Basics > Pricing, toggle price levels ON. You should now see a list of active price levels.

PLEASE NOTE: You cannot turn price levels off for a ticket after a ticket has been sold.

6) Apply price levels to your ticket:
After enabling price levels for your ticket, you can choose which ones to apply and create prices for them accordingly. From here, proceed to the rest of your ticket settings and click Apply.
PLEASE NOTE: Once a sale has occurred for a ticket with a price level enabled, price levels can no longer be disabled for that ticket.

7) Selecting an advertised price:
When selecting your price level (i.e. Military), you can set an advertised price to display when fans are selecting tickets on the event page. The advertised price is used in cases where a price range is not supported.

8) Setting an order minimum per price level:
If desired, you can set the minimum number of tickets at a specific price level that a fan needs to cart in order to successfully check out.
Please note: If tiers are enabled for tickets that have price levels enabled and the ticket minimum setting is configured differently across the tiers of the ticket, an error message will appear when attempting to create or edit the sale.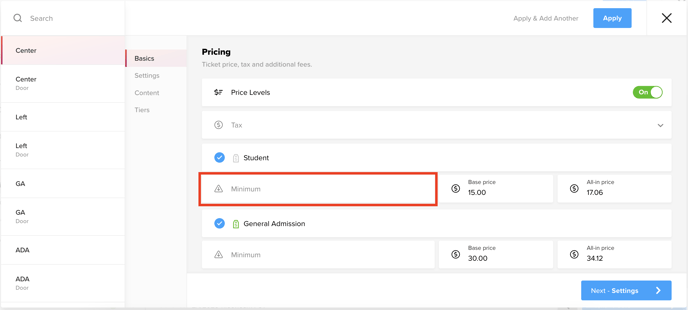 9) Synchronizing tiers with price levels:
If there are existing tiers for tickets and you change the pricing configuration of the default tier, you will receive the following message: "Pricing configuration has changed. Tier pricing must be synchronized to match." You must click Synchronize so that new pricing is updated across the relevant tiers and price levels.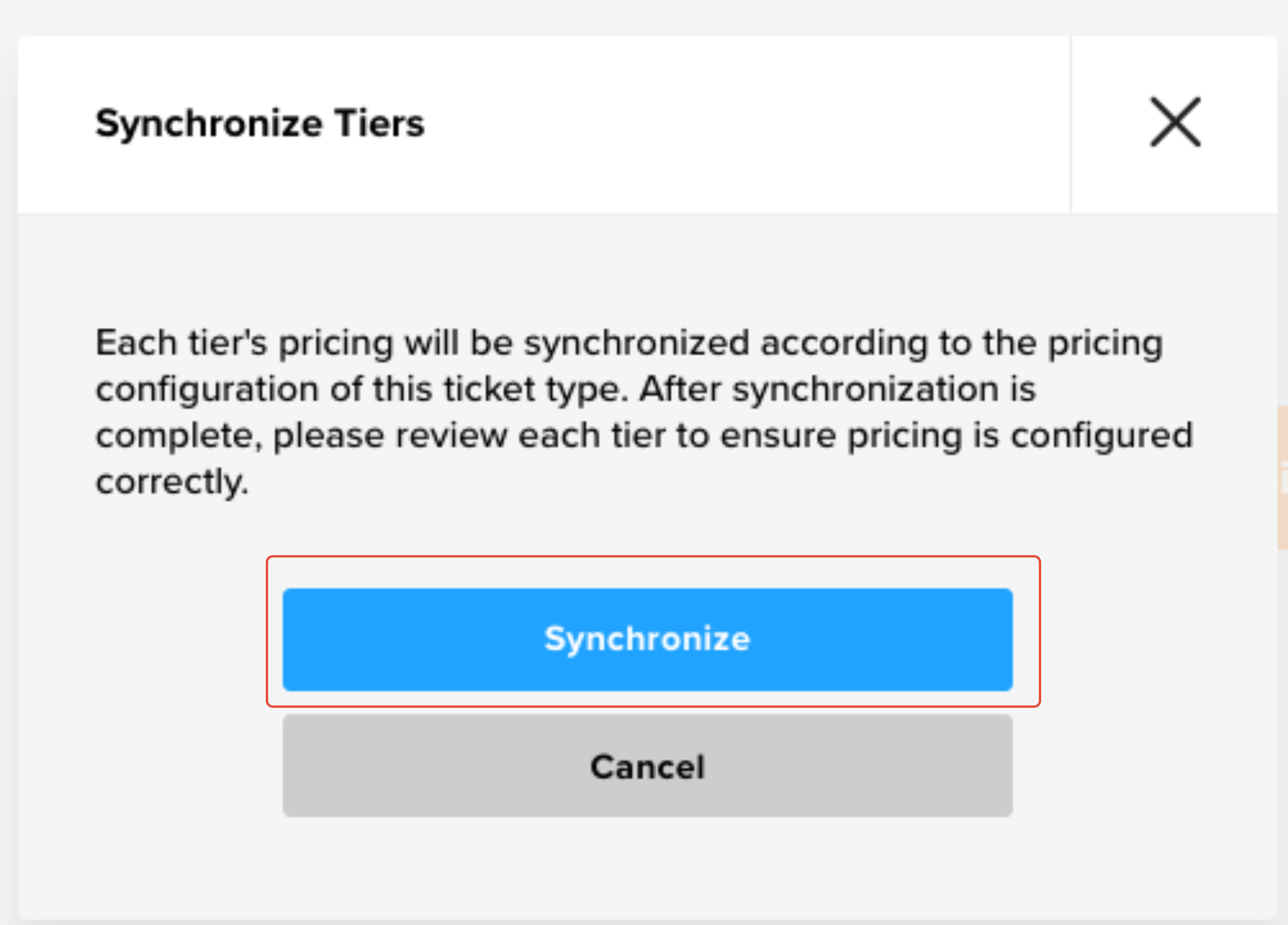 10) Publish your event:
Once your event is live, fans will be able to select different price levels when carting tickets.