Reservations is a feature that gives you the ability to offer specific seats to fans using a direct link. Renewals gives you the ability to let fans purchase the same seats they purchased for a previous event.
When do you use Reservations and Renewals?
Example 1: You have specific seats you've designated for special guests.
Example 2: You have loyal fans who regularly attend your events, and you want to offer them the same seats for each event they attend.
How to manage Reservations & Renewals in Studio
Reservations and renewals are only available for events utilizing Tixr Arena (reserved seating).
1) Create a Reservation for a fan: Go to Advanced Tools for your event and select Reservations & Renewals.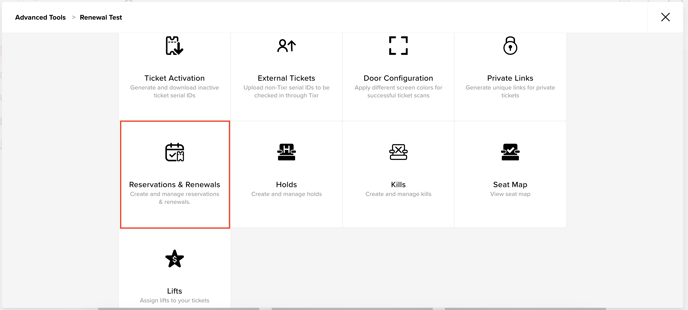 2) Create a Reservation:
a) Name
is for your internal reference
b) Expiry date
is the date that the reservation expires and the seats are released to the general public
c) Entry source
is the reference point for your reservation. If you will be creating a Renewal from a past event, select From Past Event. If you will be creating a new Reservation from scratch, select Manual Entry.
d) Email options
gives you three options for notifying your fans of their Reservation. Select whether you would like to send emails manually or automatically, or if you would rather use your own email campaign tool to notify fans, you can opt to not send an email through Studio. Note: the option to automatically send an email is not available if you are creating a Renewal from a past event, as you will be able to modify the entry before a finalized Reservation is sent to a fan.
e)
If you would like an email notification to go out, enter your email
subject line, title, and body
.
f)
Select your
ticket name behavior
. This either respects the name that a fan has in their Tixr account if that name is different from what is on the Reservation, or keeps it as is on the Reservation.
g)
Select your
hold booking behavior
. Prioritize Reservations allows you to override a hold if the seats you've selected for the Reservation are in an active hold on your event, or causes the Reservation to fail if you select Prioritize Holds.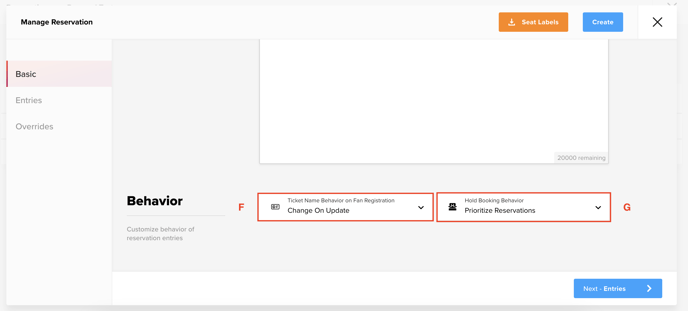 2) Add your Reservation entries: You can either add one entry at a time, or use the CSV template to upload multiple entries.
a)
If you will need to reference your seating chart before assigning seats to your Reservation, you can download a CSV or PDF of your chart by clicking on the orange Seat Labels button before proceeding
b)
To upload multiple entries at once, download the CSV template and enter your Reservation information. You must format your data exactly as outlined in the template, or the upload will fail. Once you've entered all of your Reservation information into the template, save the sheet and click Upload Entries.
c)
To add one entry at a time, click Add Entry. Enter the fan's first name, last name, and email address. Click on the orange Select Seats button to choose one or more seats from your seating chart. Alternatively, you can enter the seat labels pertaining to the seats for this Reservation, using your exported seating chart report as a reference for entering the labels correctly. For multiple seats in one Reservation, use commas to separate them. Click the Add button if you are finished, or Save + Add Another if you would like to add another entry.
3) Select your ticket types: From the Overrides menu, select the ticket type that applies to your Reservation. Make sure to click the blue plus sign before continuing. Once you see that your selected ticket has appeared below the Search Sales field, enter the price your fan is required to pay for the Reservation. You can charge them the advertised amount of the ticket (conveniently noted for your reference), or you can enter a different price altogether. Then, click Create.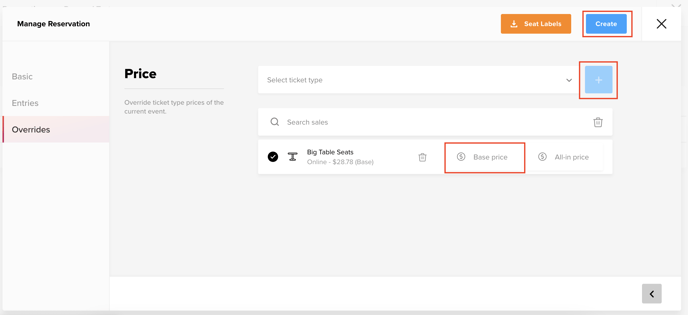 4) Finalize the Reservation: Carefully read over the important text in the pop-up box that appears, and click OK. You can edit the reservation as many times as needed before finalizing.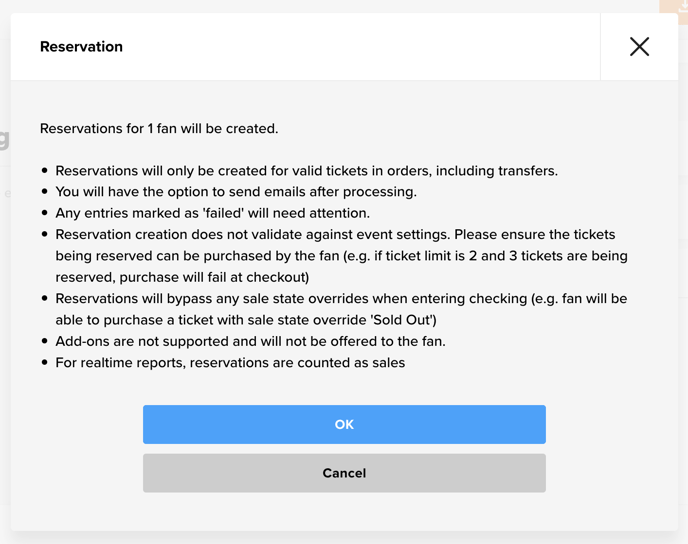 5) View the status of your Reservations: Once you've finalized your Reservations, your fans should receive an email with a Buy Now button to complete their transaction (if you've chosen an email notification option during the Reservation creation process). Any Reservation that is pending, has been purchased, released, failed, or revoked will be reflected on the Reservations screen.