Set additional event-level settings for your event.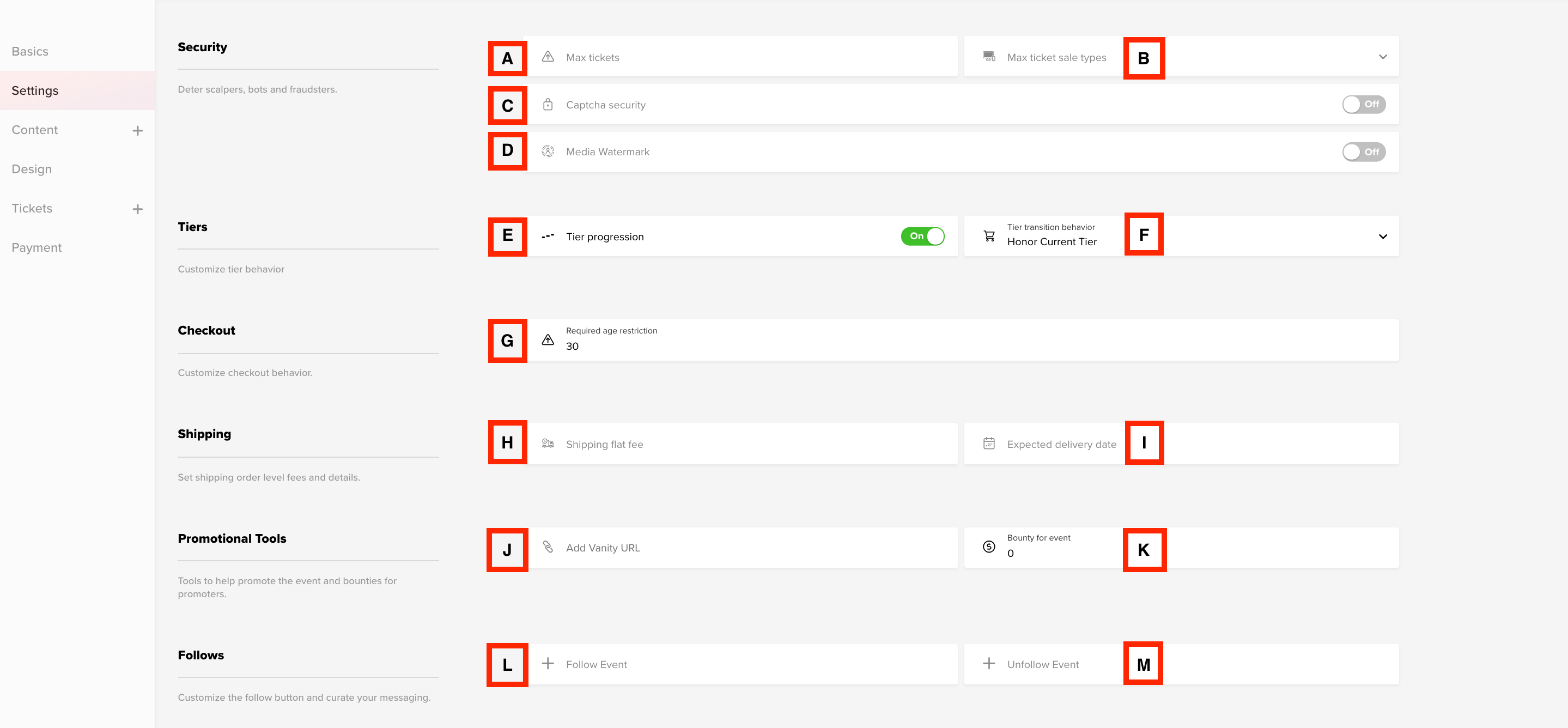 A) Max tickets: The maximum number of tickets a single user can purchase for this event.
B) Max ticket sale types: Choose which ticket sale type you would like the max limit to apply to. For example, Online tickets apply to the max ticket limit, but Add-On tickets do not.
C) Captcha Security: Enable or disable Captcha security at checkout. *Pro-tip: Enable Captcha for high-traffic events vulnerable to spammers and bots.

Antifraud Service Provider: Service option that reviews orders for flagged accounts to prevent fraudulent transactions.
D) Media Watermark: If enabled, a media watermark will be visible on the user's screen for a short duration at predefined intervals during a Media event.
E) Tier Progression: If using tiered pricing, set how your tier pricing progression will behave. If ON, tickets will jump to the next tier once tickets in escrow exceed tier inventory, and the price will not drop to a previous tier, even if fans drop out of escrow. If OFF, tiers can move back and forth between prices, depending on shifts in inventory.
*It is recommended to leave tier progression ON unless a strict amount of inventory must be sold at each tier.
*If Tier Progression is turned ON and you must move back to a previous tier, you must turn Tier Progression OFF.
F) Tier Transition Behavior: If using tiered pricing, set how tiers will behave if changed while tickets are in the cart. If a ticket tier changes while a purchaser has an order in the cart, Honor Current Tier leaves tickets unchanged in the cart. Jump to Next Tier changes the tickets in the cart to the new price tier.
*Pro-tip: Keep the Honor Current Tier setting for a better fan experience. If inventory at each tier, however, is incredibly strict and cannot be oversold at all, Jump to Next Tier should be used.
G) Required age restriction: If age is required for an event, then a user whose age is not known, must enter their age during checkout. If the age requirement is not met, a cookie is set for 30 days for the given event in that a user can no longer change their age; the user is then kicked out of checkout and given the appropriate error message that they are not of the age required.
H) Shipping flat fee: If shipping physical items, set a shipping flat fee per order.
I) Expected delivery date: If shipping physical items, set the date you expect tickets to arrive in the purchaser's mailbox.
*This date will be included in the fan's order confirmation.
J) Add vanity URL: Set a vanity URL for your event (optional).
*A use case for a vanity URL would be to shorten an event link. Ie: tixrevents.tixr.com/tixrpalooza-new-year-eve could become tixrevents.tixr.com/nye, "nye" is what would be tagged in the Vanity URL field.
K) Bounty for Event: If you are using promoters and would like to set a bounty for them, you can do so here
*This amount is simply a reference in your promoter reports, Tixr does not actually pay out your promoters directly.
L) Follow Event: Customize the copy in the green "Follow Event" button on your Event page.
*This is an email capture for fans that are interested, but not yet ready to purchase a ticket.
M) Unfollow Event: Customize the copy in the green "Unfollow Event" button on your Event page. Once someone has clicked to follow, they'll see Unfollow once logged in.

O) Events Allowed Entry: If you have secondary events that you would like to allow entry to, select applicable events whose tickets will be allowed entry and valid when scanned at the Door.
P) Entry Window Grace Period: If set, any ticket type configured to Admission Type 'Entry Window' may be checked in before or after the set window of time.
*This is set in the number of minutes. I.e. "30".