Customize your Group settings to create defaults across all events built inside this Group
What is a Group?
A Group is an organization in Tixr that houses all of your events, settings, reports, and members. In many cases, Groups correspond with a legal entity or physical location; however, some Groups may be created to segment certain events or brands within the Tixr system. Each Group has a public-facing subdomain, referred to as the Group Page, listing all upcoming events (GROUPNAME.tixr.com).
Note: Event data and user access are not shared across Groups. You will not be able to pull reports or records from events in different Groups simultaneously. Accounting will also be separate for each Group.
Example Groups
One Group with multiple events

Group: Tixr Events

Events: Tixrpalooza, Tixrtopia, Tixr House Rocks

One Group with a single event in different locations

Group: Tixrpalooza

Event(s): Tixrpalooza or Tixrpalooza LA, Tixrpalooza SF, Tixrpalooza NYC

Multiple Groups for one business entity
Groups: Tixr Rooftop, Tixr Underground, Tixr Beach Club
Manage and Edit your Group
Studio users with Master access can edit the Group and add users by opening the top-left dropdown menu and selecting the Manage Group icon.

From here, access the following Group settings:
*Important: Be sure to Save & Publish any edits to reflect changes in your Group.
---
Basics
Contains the key elements for your Group.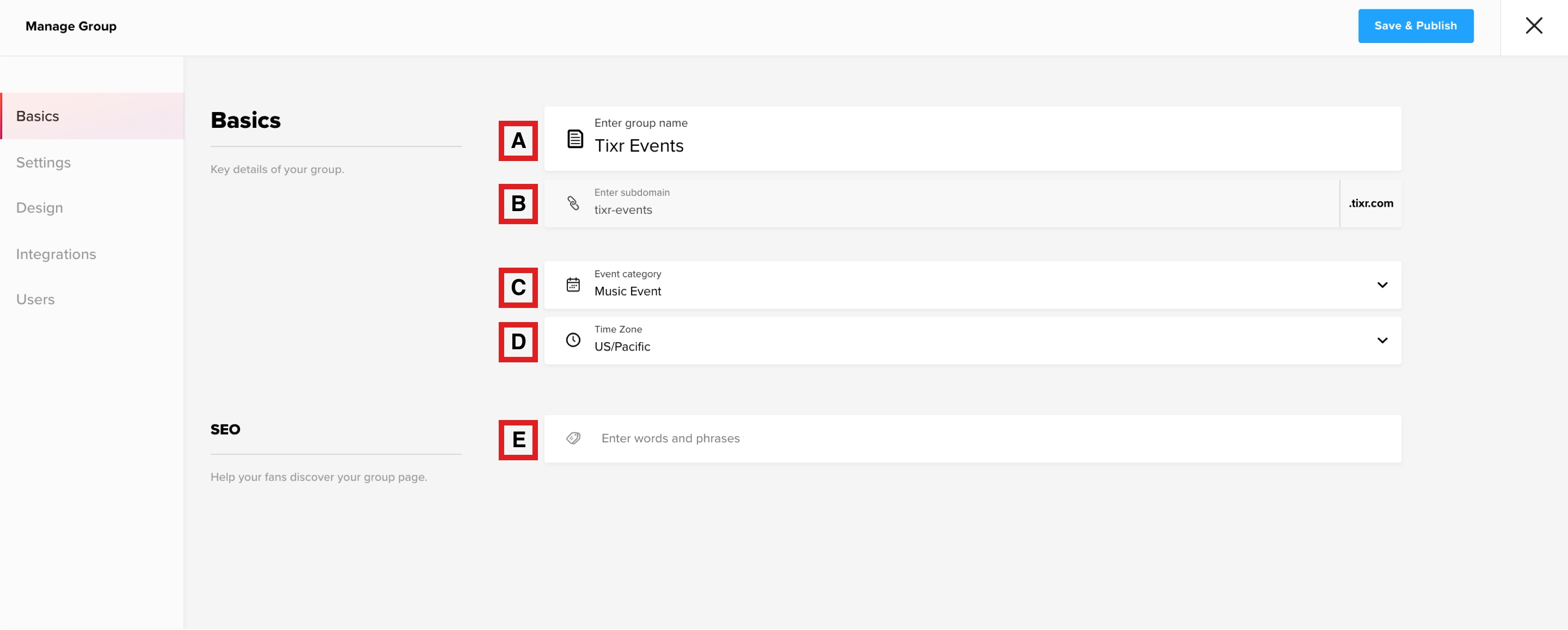 A) Group name: This is the name of your company, venue, artist tour, or event title and is only visible to users associated with the Group.
B) Subdomain: This is your Tixr "homepage" that will list all of your upcoming events.
*Note: The subdomain cannot be changed once created.
C) Event Category: Specify the default type of events that will be hosted by this Group. This is especially important for "Festival" and "Music" events, as those categories signal to our syndication partners (like Songkick and Bandsintown) to pick up your music events.
D) Time Zone: This is the default time zone of the group. Event-based dates will always follow the time zone of the event venue location. This time zone setting is for reports and group-level settings.
Pro-tip: Set the time zone for your personal Studio account in profile settings.
E) SEO: Enter words or phrases related to your group and events to enhance your SEO. No more than 10-20 keywords are recommended here.
---
Settings
Apply default checkout and security options.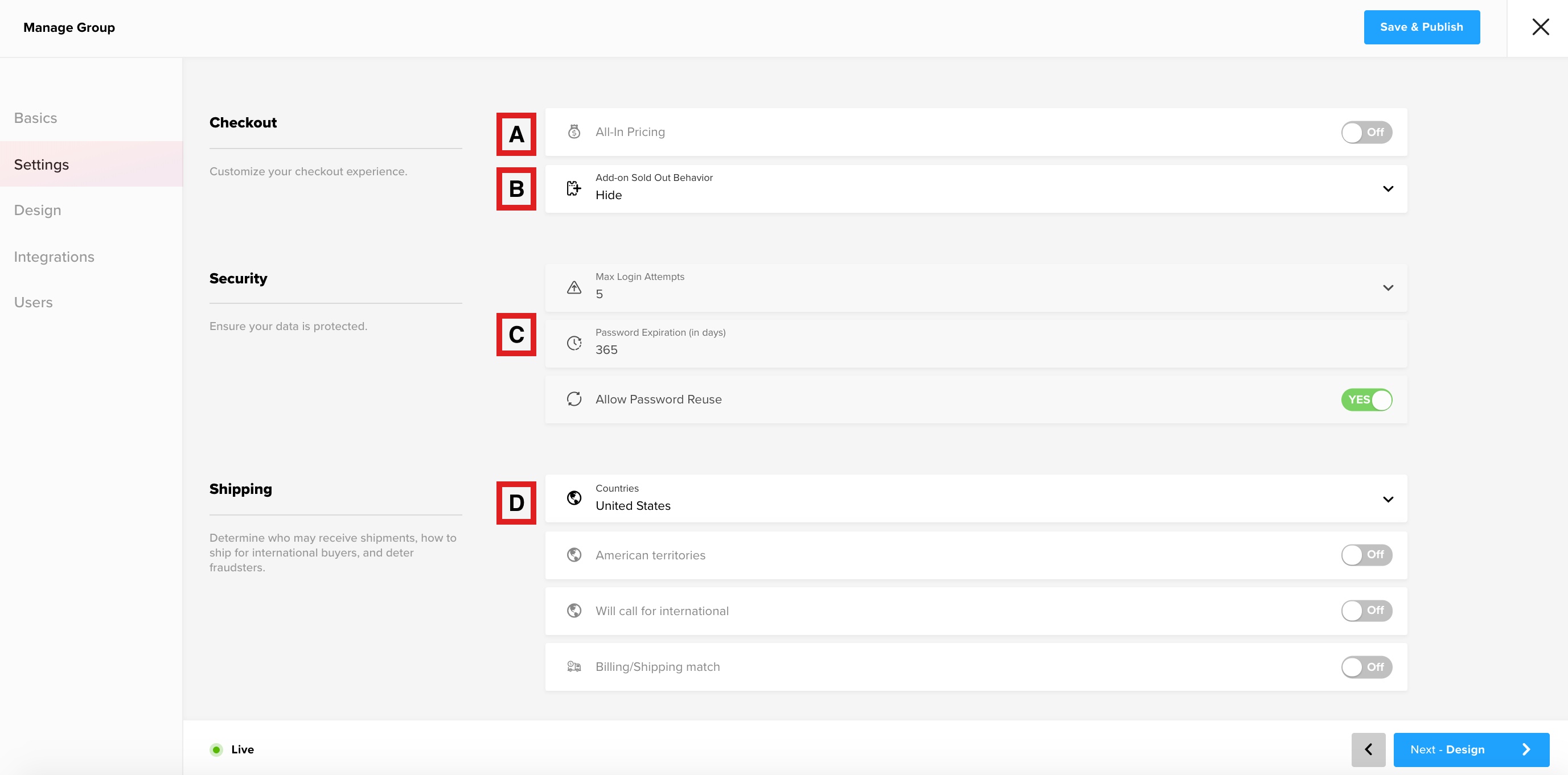 A) All-In Pricing: This feature can be toggled on or off. If on, all taxes and fees are included in the ticket price on the event page and will not be broken out at checkout. The ticket price displayed on the event page and ticket pickers is the final price.
B) Add-on Sold Out Behavior: If you have an add-on ticket that is sold out, you can choose to hide it completely or have it show as "sold out."
C) Security Settings: Select your password security settings.
D) Shipping: Determine how to handle the delivery of physical goods.
Countries: Select countries eligible for shipping
American Territories: Activate if any of your events will occur outside the United States but in American territory.
Will call for international: Activate to send all international orders to will call.
Billing/Shipping match: Activate if you wish to require the billing address to match the shipping address for an order to be processed.
---
Design
Customize the look & feel of your group page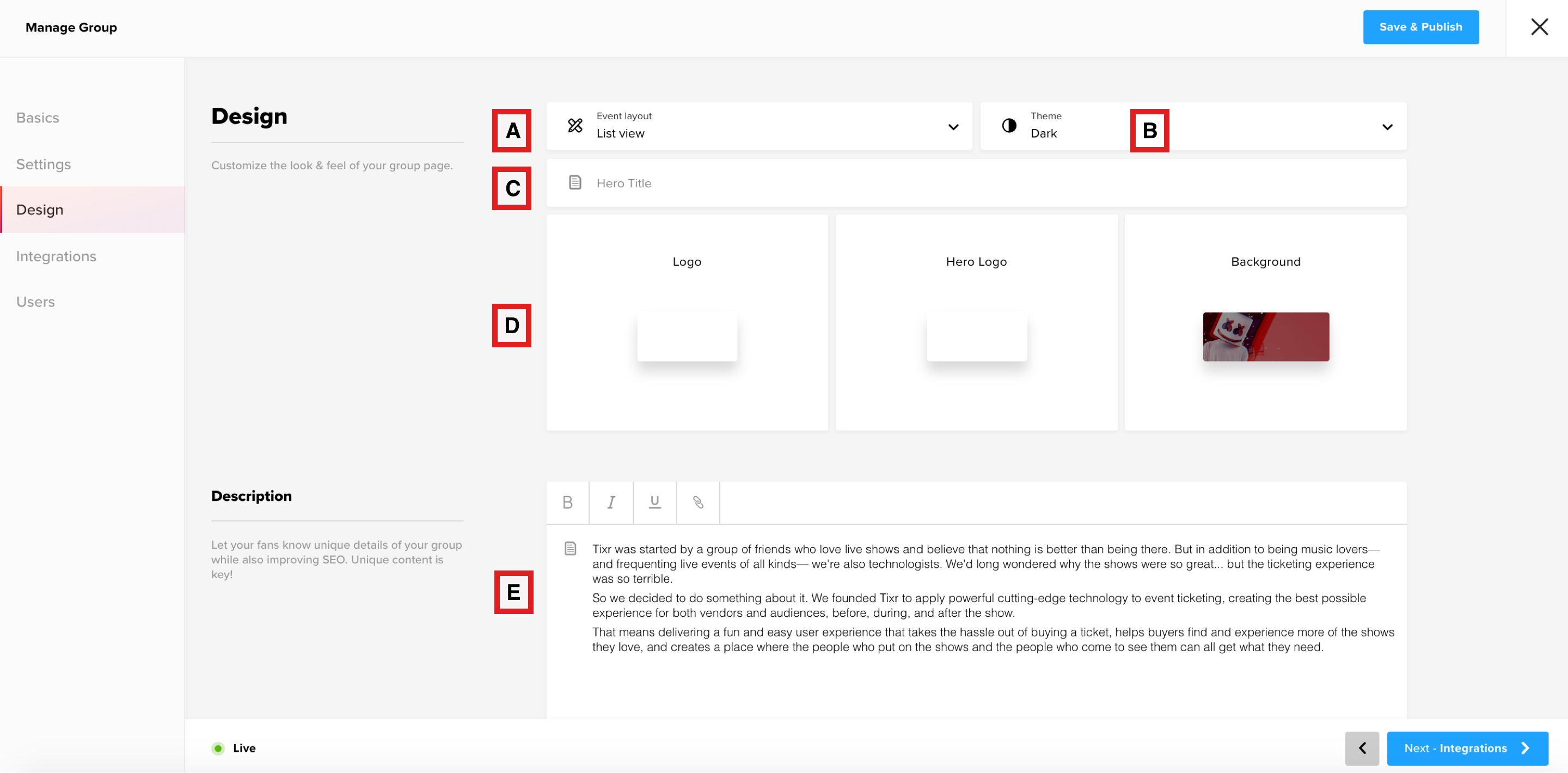 A) Event layout: Specify whether you would like your Group Page to be in a List, Calendar, Flyer Carousel, or Flyer Grid view.
List view will organize all upcoming events in a vertical list, organized from top to bottom by start date
Calendar view will display all of your upcoming events chronologically by start date within a calendar format.
Flyer Carousel view will display each event's flyer image horizontally in a rotating view

Flyer Grid view will display the event flyer image and organize your events within a grid format
B) Theme: Use the dropdown to select Dark or Light theme for your Group page.
C) Hero Title: Optional text field to display under the Hero Logo. We recommend using your Group Name.
D) Group Page Assets (png or jpg) - Design Asset Sizing
| | | |
| --- | --- | --- |
| Logo | 300 x 300 px | Displayed on the upper left of event pages. When clicked, it redirects to the group page. |
| Hero Logo | 350 x 350 px | Appears in the center of the group page. |
| Background | 1440 x 600 px | Shown as the main header image of the group page. |
| Mobile Background | 640 x 720 px | Shown as the group page header image when viewed on a mobile device. |
E) Description: Write a description of your group. This will display on your Group Page below the group background image and listed events.
---
Integrations
Connect your Google Analytics, and Mailchimp accounts for advanced reporting and seamless marketing.

If applicable, the option to connect your Stripe account is listed.
Users
Invite your team to join your Group and assign them access levels by clicking + Add User or by using the CSV template to upload a list of names and emails. Once you add a user and publish your changes, the user will receive an invitation to Tixr Studio.
*Note: If you don't click Save & Publish after adding a user, the invitations will not send.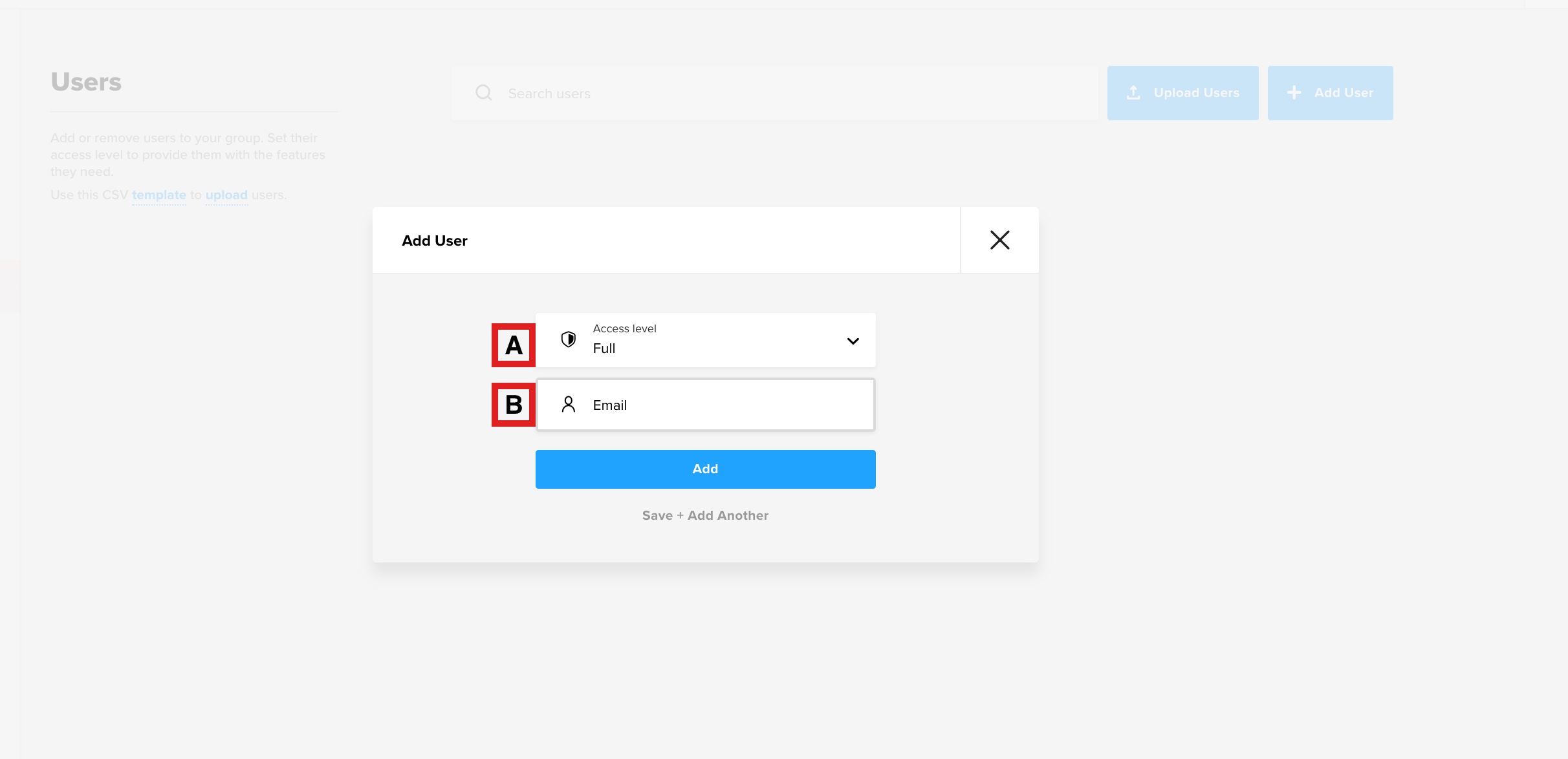 Lastly, click Save & Publish to push any changes to your Group!