You can track Rewards in two places; Reports and Audience.
Reports
Click on Analytics, then Reports. Then go down to sales and click "by Source". From here, you will look through until you see the line item "Influencers". If you have sales here you will see a drop-down. Click to expand it and see each Influencer, the percentage of Influencer sales they have brought in, net tickets issued, and net ticket sales.
Audience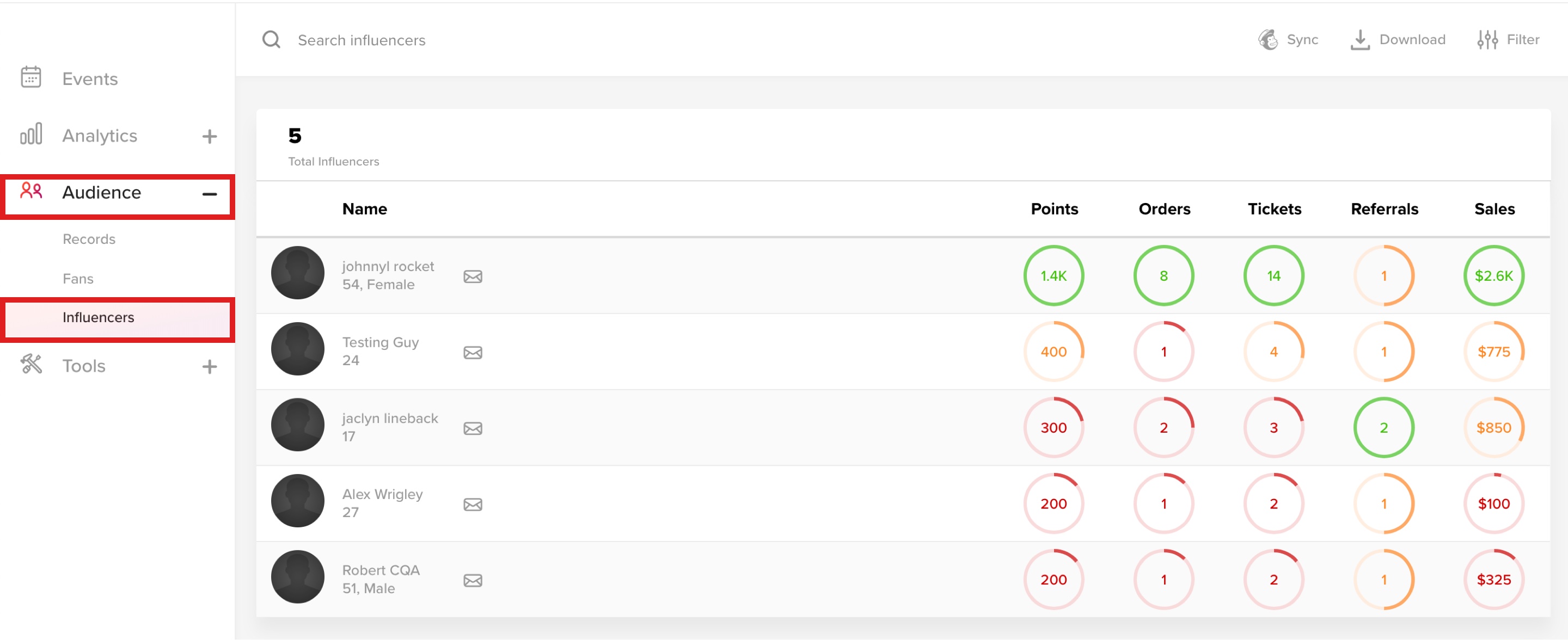 To view sales made by Tixr Rewards referral links, go to the Influencers section of Audience.
Here you can view all sellers, sorted from most points to least points. You will receive customer data (name, age gender), total points, number of orders, number of tickets, unique referrals and total sales dollars associated with that seller.
Export this list directly to Mailchimp using the Mailchimp icon in the upper right part of the screen.
You can also click the download icon, next to Mailchimp, to download this info into a CSV file at any time. The exported Influencers report shows each influencer's customer info, influencer ID, gender, birthday, rewards points, number of orders, number of tickets, number of unique fan referrals, gross sales, discounts generated (if applicable), net sales, and date of most recent order. The exported Detailed Influencers report shows the above data, plus rewards tier, type of fulfillment, type of reward, discount percentage (if applicable), max reward, date reward was applied, amount of reward, and whether or not the reward has been awarded.
*If you have multiple Events, use the filter icon in the far top right to get specific data.
Fans can also view their Tixr Rewards progress by logging into their Tixr account at tixr.com.
*Tixr Rewards referral links will be tracked for 30 days once a fan has clicked. So if a fan clicks a referral link, leaves the page, and comes back within 30 days, the fan will still receive credit for that sale.